Technological advances have made it very easy for us to use our gadgets with convenience. One of the many advantages is accessing the laptop camera from the phone.
Isn't it great to have the option to access your laptop or home computer? Sometimes we have to get our important files and other data, which are usually on the laptops.
To access the laptop from our phone is possible thanks to the advancement in technology. Not only we can access our data we can also get access to our laptop camera from our phones through a different application that is available online. Let us see find out the available applications and other option. Before we get into the details, I want you to understand the VNC server.
Virtual Network Computing (VNC)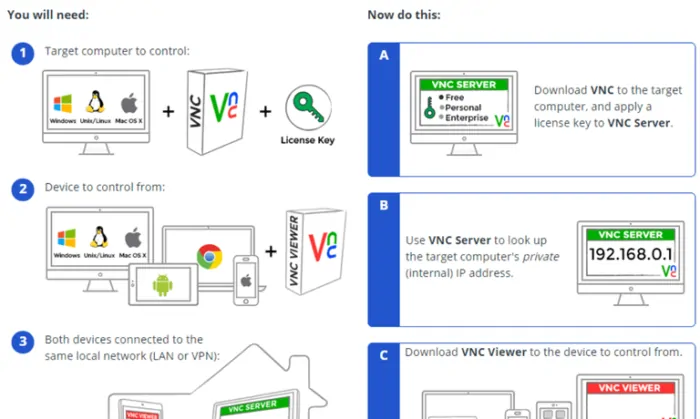 Virtual network computing (VNC) is a type of remote-control software that makes it possible to control another computer over a network connection. It allows the keystrokes and mouse clicks remotely also allows technical support to manage another computer or laptop from being away from it. It is important to understand about this server as it plays the main role in accessing the laptop from a phone. Applications that I am mentioning below offers other different features along with VNC.
How to Set Up VNC in Laptop?
Open the RealVNC site to download the necessary software chooses the free edition. You can proceed without entering your name and email.
Click on 'Download' it will take you to a page with different
If you choose Real VNC, download the version with both server and viewer onto the laptop and install.
Make sure the server software is running on the laptop, and it is connected to the network. The first time you run it, you will need to set a password for accessing the laptop.
Open the viewer software on the other computer or laptop. Here you will need to enter the name or IP address of the laptop.
Click "OK" after you enter the name.
Now set the password.
It should work now, but if for some reason this doesn't work, verify that a Firewall or security on either device or laptop is not blocking the connection.
Now that you have a clear idea what a VNC is. There is a different version for mobiles to act as the server edition for a laptop. To know about it, I will list down some of the possible software that you can install and get access to your laptop.
Best Application for Accessing Laptop from Android Phone
Splashtop Remote Desktop
Splashtop is another app that gives you functionality and quality all together. It let you access the laptop and gives the HD quality screen view. That is why it has been awarded the best mobile app. You can set up a remote connection through Splashtop by installing Splashtop Streamer on your laptop.
The mobile app will then automatically find your local computer. You can access your laptop by the internet when you sign in to your Gmail account. It is a paid application that you can get from the app store and online. It is easy to use.
TeamViewer for Android:
TeamViewer is one of the famous applications for accessing the laptop from android phone. With TeamViewer, you can remotely access laptop and assist friends or family members with system issues by sharing desktop. It has a free version for basic use in which you can use for non-commercial use and the paid version which has advance feature and best to use for business.
The paid version provides additional options like enhanced multi-monitor support, faster drag and drop, the ability to save connection settings per computer, AVI format conversion for recorded sessions, optimized performance and more. You can also take part in group chats and be a part of meetings on the go. Overall, it is a great app to access the laptop camera from your mobile.
Android-VNC-Viewer:
Here is another application that can do the job for you. It lets the users to remotely access their desktop from an android phone and is capable of connecting to most VNC servers. It will import and export settings to a file from your SD card and URLs for importing settings. It also gives you the option of keyboard zoom, configures multiple connections, multiple input modes and other features. You will find this application best for performing basic tasks such as accessing files on your computer and remotely managing to upload and download functions.
Phone My PC: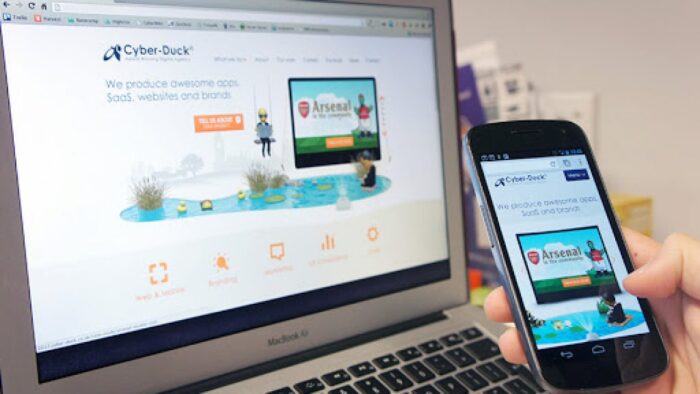 This is another paid app with some of the best features offered. You can download the laptop version of it and follow the simple instructions from the developer's website to set it up for optimized use. It gives you control over computer's processes, windows, and webcam. You can even get instant video and audio from your laptop camera. It makes it much easier to control and manage your laptop remotely on a small smartphone display.
Connect Bot:
It is especially for IT specialists. It let you access the laptop very easily. Professional use this app to fix the issues from far away. It is no hidden secret that connecting to a server remotely is no longer a utility but rather a necessity as a professional IT can access your laptop from her or his handheld Android device. It shows this app can get the access to the deeper system of the laptop so accessing the camera should not be difficult. You can get the app online.
Chrome App:
It is another great app, and it is quite easy to install. As Android is very compatible with Google, so it is best for both laptop and android mobiles. Install Chrome Remote Desktop from the Chrome Web Store. It allows you to access the laptop through the browser. It is fully secure as well. Once downloaded launch it and set it up in your laptop. It will require Pin for set up. Then download it on the phone as well and when it requires the pin provide the same as your laptop. It will give you the access right away. Now you can access your laptop.
I hope you find the above mention list useful and it can be helpful to you. There is a chance one might not work for you, but others will so try them one by one. Thank you.