Table could not be displayed.
Try to think of something more relaxed than watching great movies on the big screen in theaters. Well, even if you can't go to a theater, you still can have the best time watching some good movies; new, old, the classics, or the ones that you have watched a million times before. And all of that you can do with just one gadget – a projector. And if the first thought that crossed your mind just seconds ago was that projectors are pretty pricy and that your budget isn't big enough for you to own a projector – you are wrong.
Even on a low budget, it's possible to find a great projector that's good quality and that has the capability to transform any dull wall into something beautifully interesting. With just $200 or under, you can get a magical box that will make your boring nights exciting again.
But it's not all that simple. If you don't know how these things work or have never owned a projector before, you probably don't know what's a good deal. Sometimes, if you don't know much about what you want to buy, you can overpay it, and you don't want that. Because we don't want you to find yourself in that kind of unfortunate situation, we've made a list of the best projectors that are under $200. How cool is that?
Top Budget Picks for 2023
We already know that if you are looking to transform your room into a comfy and private theater, you will find a projector that suits all your needs here on this list. So, let's begin; keep reading until you find your perfect match. 
1. VANKYO Performance V630 Full HD Projector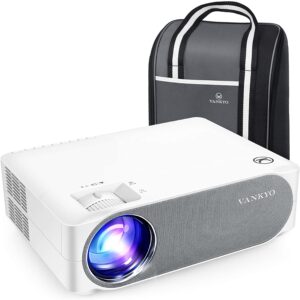 If you are yearning for some good home entertainment, this projector is everything that you need. The specialty of this projector is to give you more brightness than others, 80% more brightness. And the expected ratio is 16:9. It can project from 5.15 to 30.18 feet, and it supports a 46 – 300 inches projection size. You will love it because the LED lamp has a long lifetime of around 50,000 hours. With it, you will get a 2 USB, 2 HDMI, AV, VGA, USB ports, and an SD card slot, so you will have various ways to connect it with your devices. If you lack good speakers, don't worry – you won't need to buy new ones. The V630 has its speakers built-in, and you will enjoy the sound coming from them.
The Specifications: 
Connectivity: USB, HDMI, AV, VGA, Micro SD port

Screen Size: 46 -300 inches 

Native Resolution: 1920×1080

Projector Distance: 5.15-30.18 feet

Image Brightness: 6,500

Contrast Ratio: 5000:1
2. DBPOWER L21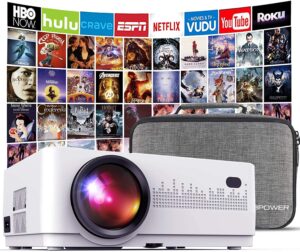 If you are looking for a projector that has a great cooling system, you found one. Because this model has an intelligent cooling system, so you don't have to be afraid that it will ever overheat during your movie nights. And because of that, it will live longer than other projectors with cheaper cooling systems.  You can connect your devices via USB or HDMI ports, and it doesn't have an RCA. Like with the previous model, it has built-in speakers, so you don't have to worry about that or buy new speakers if you don't have one. The built-ins will do just fine and make your day or night more interesting while watching your favorite TV show or movie. The LCD lamp's lifetime is calculated to be around 50,000, just like with the previous model.
The Specifications: 
Connectivity: USB, HDMI

Screen Size: 50 -200 inches 

Native Resolution: 1280×720

Projector Distance: 3.2-16 feet

Image Brightness: 5000

Contrast Ratio: 3000:1
3. Wsky Direct 2019 Upgrade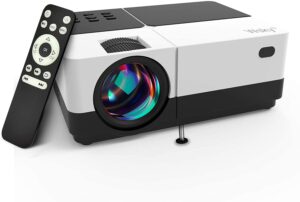 When it comes to projectors that are easy to set up and easy to use, this is the best one when you compare prices. It's cool, it's easy to use, you can use it with various media, and it's not pricy. It has an RCA port, USB, VGA, and of course, an HDMI one. So even if you have an old gaming console, or you would love to watch some old VCR footage, you can do it with this projector. Customers who bought this projector say that they love that the bulb has a long lifetime, but it's not that long compared to the other two mentioned models.
The lifetime of the bulb on this one is just 40,000 hours. But it's still good. The downside that we find out is the brightness, that's not that bright. It means that if you plan to use it as a tool for presentation, it will not be useful, but if you want to use it solely for entertainment, it's perfect. It works perfectly if the room is dark or if it's nighttime outside. 
The Specifications: 
Connectivity: USB, HDMI, VGA, RCA port

Screen Size: 30 -176 inches 

Native Resolution: supports 1080px 

Projector Distance: 16 feet

Image Brightness: 2800

Contrast Ratio: 2000:1
4. Artlii 5500 LUX Full HD 1080P Support Projector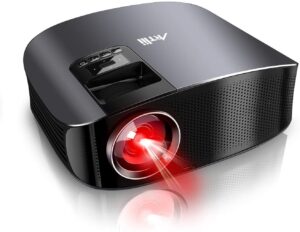 A great feature about this projector is the fact that it's lightweight and portable if you plan to move it around the house. Another great thing is that it will give you beautiful and vivid colors, and it even has a pretty high brightness level compared to other projectors from this price range. It has an HDMI and USB port, and it will come with an AV and an HDMI cable. And once again, this is another projector that has built-in speakers that will give a great sound.
The Specifications: 
Connectivity: USB, HDMI, VGA, AV, and Micro SD port 

Screen Size: 44 -200 inches 

Native Resolution: 1080px 

Projector Distance: 1.5 – 5.6 m 

Image Brightness: 5500

Contrast Ratio: 3000:1
And we've come to the end of our list, and we believe that you now know what and where you will be your new projector. And we envy you a little bit because soon you will be enjoying your private movie theater. Now you only need to pick your favorite movie and prepare some snacks. 
Read Also: Best Star Projectors in 2023
Take a look at these models from the same range that are available on Amazon right now:
No products found.