Choosing the right laser cutter or an engraver might be overwhelming. There are many to choose from. Some are great, the others not so much. With just only that in mind, how do you find the right one? We understand just how hard this process must be, so we decided to help. We've gone out and did our research so we can present you with the greatest laser cutters and engravers, but before we start, we need to cover some basics. Let's get started.
Things To Consider Before Buying A Laser Cutter
How are you going to use the machine? What's your budget? What are some of the key features and advantages of the product? Before you buy a machine, you need to know the answer to all of these and several other questions. Here are some things to keep in mind before you make a purchase.
First things first, you need to identify how you're going to use the machine. Are you trying to start a business or do you just want to work on your passion projects? Also, laser cutters and engravers aren't all the same. The materials that are being engraved on are metal, wood, plastic, or paper, so you need to know which of those you'll be working on before you buy the machine.
Of course, you'll have to consider the budget, as well. The price range for laser cutters is remarkably huge. You can find a device under $200 and you can find one that costs upwards of $90,000. How you're going to use the machine will greatly affect your budget and vice versa. If you're just doing some minor projects for yourself you probably don't have to spend a fortune on a laser cutter.
There are two options as far as software compatibility goes – the native machine software or third-party software like CAD. Depending on your needs and the complexity of your work, you'll need one or the other. In general, the more complex and intricate your work is, the greater software compatibility you'll need.
Laser cutters don't really work on their own and you need to connect them to your computer or a laptop and that's why you have to think about connectivity. Depending on how clean and minimal you want your workspace to be you'll have to decide whether to connect the machine to the source via USB cable, Bluetooth, or Wi-Fi? A cable is more stable, but a quality wireless network should also be sufficient.
Finally, you need to consider how big you want your machine to be. Are you pleased with the one that fits on your desk or do you want a much more substantial piece of tech? Furthermore, consider the projects you'll be working on and how big the pieces you might need from this device.
Our Top Picks
Finally, let's meet our top picks for the best laser cutting and engraving machines.
1. Orion Motor Tech 80W CO2
If you're in the market for something affordable, yet very efficient, then this is the one for you. This laser engraver and the cutter are best suited for wood, which is what most DIY-ers will be working with, we'd assume. This is a finely built machine, a compact package and it should do pretty much anything you ask it to do. It's an 80W, CO2 machine, so it's not the most power-consuming device on the market. On top of all that, it's quite fast – reaching the engraving speed of 500mm per second and cutting speed of 80 mm per second. It covers a 20 by 28-inch work area and is compatible with various software including CAD, Adobe Illustrator, and CorelDRAW.
2. Elephant 1390 CO2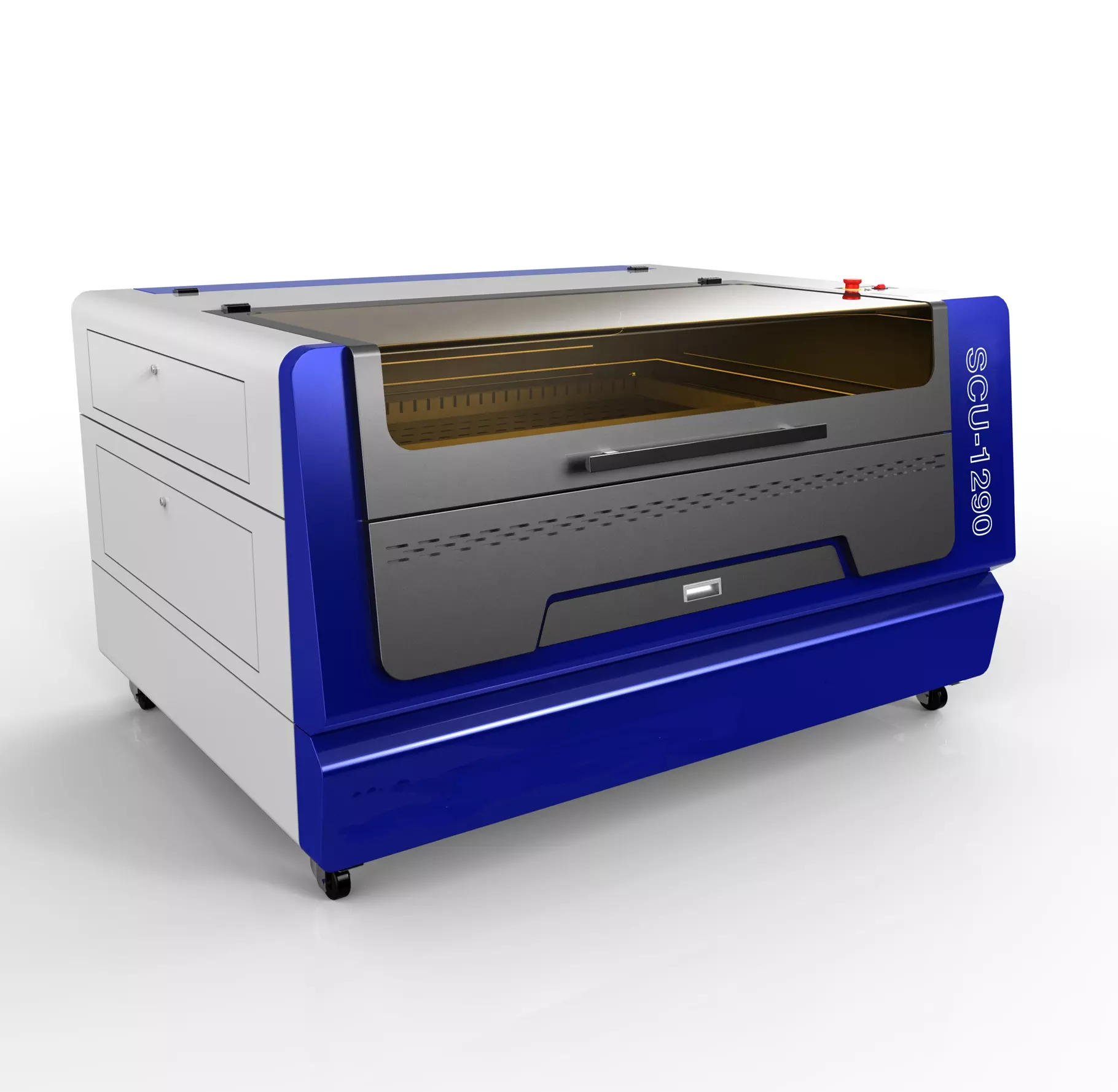 This laser cutting machine from elephant-cnc.com is another great pick for those looking to cut and engrave material like wood, acrylic, cardboard and similar. It's not suitable for cutting stainless steel, aluminum, or any other kind of metal, but it'll do whatever you want it to do with wood. It's a well-made, compact machine, ideal for working from home. It's a 100W machine that's going to cut through a 13mm thick wood without putting a toll on your electricity bill. Engraving speeds reach up to 1200mm per second, which is more than twice as fast compared to the previous model but what's even more impressive is the precision of this machine. This one can easily engrave letters that are as small as 1mm.
3. FoxAlien LE-4040
This is a product for all of those in need of a desktop laser engraver that can do it all. It's light, compact, sits on your desk, and can engrave pretty much anything. It's best used on wood, acrylics, MDF, vinyl or leather, but it can ever handle some pleated and powder-coated metal, although not as easily as wood. It's super-fast and precise, with the engraving speeds up to 3000mm per second and the precision engraving down to one-tenth of a millimeter. It's both compatible with Windows and Mac, which means you won't have any problems as far as connectivity and compatibility goes.
4. Ten-HIGH 3020
If you're looking for something that's remarkably precise then this is the one for you. Ten-HIGH's 3020 accuracy is down to 0.01mm, which means you can deal with some pretty intricate details. At this point, it's the most accurate engraver on our list. It's still quite fast, reaching the engraving speeds of 600mm per second, but that's hardly the best we've seen today. It's not Mac compatible, so that's important to know. Windows users won't have any difficulties connecting this one to their computer via USB.
5. Glowforge Plus 3D Laser Printer
For our final pick, we've gone with a laser cutter/engraver/printer from Glowforge. This is a cool-looking device. It's well-built, wonderfully designed and it can do a lot more than just cut and engrave.
This machine can build 3D objects. To be fair, it does not build them like a regular 3D printer, but what it does is cuts wood or other organic materials like leather, paper or cloth, which you can later you can assemble into a 3D object. It's cross-compatible across all platforms, including iOS and Android through a Glowforge app you can find on the AppStore or Google Play. It's quite precise, so you won't have any issues building your 3D models for DIY projects.
Conclusion
We've gone with some of the finest, but not the most expensive laser cutters for your DIY projects. Naturally, there are far superior machines out there, but most of those are industrial quality and cost upwards of $50,000 which we deemed unfit for regular, home use. Hopefully, you liked our picks!