When it comes to choosing a processor, things might not be that hard but the real exam begins once you have to pair it with the right motherboard.
Isn't that so? Keeping that in mind, we decided to do a little twist to our usual articles and thought of recommending you the best motherboard processor combinations.
These recommendations can also be considered for best gaming laptops and you can take a look at all the details that we have given below to decide what you would like to do.
In case, you do not have enough time to read the entire article, here are our top 3 motherboard CPU combinations that you can choose from
And if you have time, continue reading the following information in order to get a clear view regarding what we are talking about.
Let's start with something as basic as Core i5-9600K Desktop Processor paired with Prime Z390-A Motherboard.
We all know that Core i5 Processors represented something highly mainstream and mid-range. Intel is known for manufacturing some of the best i5 Processors and the 9600K Desktop Processor is something that is definitely worth the go.
Since we will be discussing how you can pair up the best processors with the right motherboard, we will take our time providing you insight about both these units and how they can offer you the best of performance in terms of gaming and working your way through intense tasks.
The Core i5-9600K is definitely value for money, providing you with great power consumption and high performance. If you happen to be a gamer, you will know exactly what we are talking about. The only company that has given competition to Intel is Ryzen but the Core i5-9600K has been able to maintain its customers by proving to be unmatched in many aspects.
However, in Intel's recent versions of i5s that are based on its Coffee Lake Technology, the company did increase the core count of its processors and provided its customers with suitable performance output.
But, unfortunately, the Intel i5-Core 9600K only comes with six cores like its predecessors and its price tag is pretty reasonable as well which makes up for the lesser core count. The performance is still optimal and once you install this processor in the right motherboard, you will have all the performance you were hoping to draw out.
There is one thing worth mentioning about Intel that we thoroughly admire is that the company switched this processor to a more solid thermal-based material for its interface between the heat spreader and its die. This switch-up enabled Core i5-9600K to provides its users with Boost Turbo Frequencies that pretty much made up for all the lacking,
Coming to the motherboard, ASUS Prime Z390-A Motherboard is the living example of less is more. The company is known to be the most impressive and influential manufacturers of motherboards on the globe today. If you consider yourself a PC enthusiast, then you know exactly what we mean when we say that ASUS is a company that is going to provide you with optimal and wonderful performance.
The motherboard is based on Z390 Express Chipset and comes with a minimal feature set. The ASUS Prime Z390-A Motherboard supports multi-GPU technologies from AMD and Nvidia, PCI-Express 3.0, M.2 with PCIe/NVMe support, SATA 6GB/s, USB 3.1 Gen 2, IRST, Intel Optane Technology along with an amazing audio feature set and more.
There are also some additional features in ASUS Prime Z390-A Motherboard but those are limited to the company's own design. It comes with an excellent layout and we didn't find any fault with its placements. You can easily connect it with your PC case and it offers you great connectivity and overall support.
We have always enjoyed using Intel Core i5-9600K Processor and we have to say when we paired it up with this motherboard, the performance was phenomenal. However, we did have some reservations with its power consumption but the PC worked finely when we installed CPU coolers and additional GPUs that motherboard richly supported.
If you are a gamer who is looking for high resolution and an optimal gaming output, then Intel Core i5-9600K Desktop Processor Unlocked with Prime Z390-A Motherboard is the combination you need to go for.
2) Intel Core i9-9900K Desktop Processor 8 Cores up to 5.0 GHz Turbo Unlocked with ROG Maximus XI Hero Z390 Gaming Motherboard
We had a feeling that our first recommendation may have been a bit disappointing to you since Intel is by far the most reputed company when it comes to buying tech.
This is why our next recommendation is exactly what we all have been waiting for a very long time.
Intel Core i9-9900K is the first mainstream processor that we have all been waiting for that offers its users with a massive core count and great Turbo Boost Frequency.
Those who use Intel had been waiting for this processor because Ryzen had recently upped its game quite a notch and users of Intel were pretty much left wanting for.
With the launch of 9900K, Intel has inaugurated its first-ever Core i9 Chip and it comes equipped with 16-threads, 8-cores and offers with the capability to Turbo Boost up to 5.0 GHz clock speed.
This is an octa-core processor that is not just known for breaking all the past records made by Ryzen but it also leaves the company quite behind with its enigmatic performance.
However, the processor will not prove to be the best in the world if you do not pair it up with the right drivers and the best motherboards.
We have chosen to suggest you ROG Maximus XI Hero Z390 Gaming Motherboard for that purpose.
With the solid core count of Core i9-9900K and amazing feature set of ROG Maximus XI Hero Z390 Gaming Motherboard, you will become invincible as far as gaming gear is concerned.
You have already read the extensive features and specifications of the processor, now we are about to tell you what motherboard has to offer you and joined forces together, these babies will provide you with a performance output that you have never experienced before.
This is a motherboard that not just looks stunning but also carries some magnificent features as well. It offers the Coffee Lake –S 8-core platform and that is why we have paired it up with Core i9-9900K processor.
The company has launched the Coffee Lake S-8 Core Processor to enhance the capabilities of the performance its predecessors offered. The new ROG Maximus XI Hero Z390 Gaming Motherboard runs in wonderful order and ensures you draw out the maximum potential of your PC. You will face no stability issues and the motherboard runs extremely well where it needs to.
The Core i9-9900K is not just the first mainstream processors of Intel but it also features the highest thread-count when it comes to purchasing Coffee Lake Processors. The processor offers hyper-threading performance and when it unlocks it with a Motherboard like ROG Maximus XI Hero Z390 Gaming Motherboard, your end result will be something that you haven't even thought of for very long.
When it comes to choosing motherboard and CPU combinations, it is highly necessary that you consider what your requirements are.
If you want to up your clocking speed and make the most out of your PC's capabilities, pairing Intel Core i9-9900K with ROG Maximus XI Hero Z390 Gaming Motherboard something worth considering.
3) ASUS ROG Crosshair VI Extreme AMD Ryzen AM4 DDR4 M.2 USB 3.1 EATX X370 Motherboard with onboard 802.11AC WiFi and Aura Sync RGB Lighting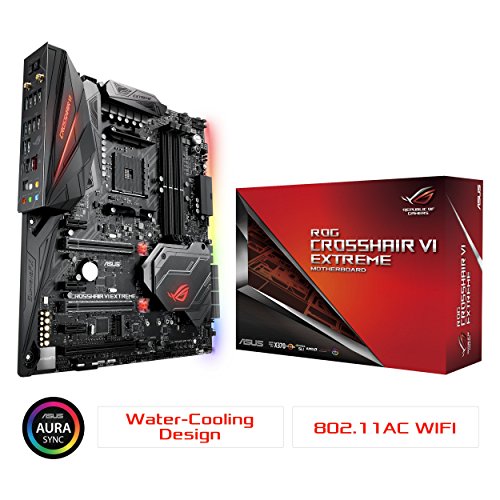 This is an extended motherboard that offers you with all the technical features that one needs in a motherboard.
When we were on the lookout for best CPU and motherboard combinations, we wanted to recommend you a product that offered phenomenal support without compromising on any aspect.
That is when we found ASUS ROG Crosshair VI Extreme AMD Ryzen X370 Motherboard. As we have mentioned earlier, when it comes to buying a high-end motherboard, ASUS is the best company to consider.
Not just because it has been in business for a long time but also because the company has proven to offer optimal support and great accomplishments in the world of technology time and again. The hardware of Crosshair Extreme has been a fan favorite always.
If you are not fond of Intel and Ryzen motherboards, then ASUS ROG Crosshair VI Extreme AMD Ryzen X370 Motherboard has got you covered because it comes packed with all the major features that any PC enthusiast has to look for.
As we have always suggested that high-end motherboards and CPU do not come cheap and neither does this motherboard.
But we also tell you that when you have money in your pocket to spare, go for a product that will add value to your expenditure. If you have extra cash in hand, the specifications this motherboard offers you will easily be justified.
The layout of ROG Crosshair VI Extreme AMD Ryzen X370 Motherboard is stunning and so are its features. It offers you some high-end features such as DDR4 support, USB 3.1 Gen 2, dual M.2 storage capacity, Supreme FX audio, 802.11ac Wi-Fi and so much more.
The motherboard has been designed in such a way that it dissimilates maximum heat and provides optimal gaming performance to the user. The device is compatible with AM3/AM4 cooler along with many other water cooling zones.
The stunning RGB lighting is AURA Sync and it ensures to offer you with a stunning lighting experience. The company has packed the motherboard with some really cool hardware and on-board controls that makes overclocking really easy.
We have to say that this is a pretty solid motherboard for all the ASUS users. The build quality is magnificent and it sure as hell offers long-term durability round the clock.
You will require good networking hardware for streaming, gaming, and uploading videos to be a smoother experience. The motherboard also offers you with the best audio hardware that you will ever find in the market. 
So, if you are prepared to spend some extra cash in order to attain some high-end features on a motherboard, go ahead and buy the ROG Crosshair VI Extreme AMD Ryzen X370 Motherboard.
It comes equipped with all the newly launched features that you had been looking for and it provides you with a performance result that you have never experienced before.
Intel launched its Core-2 Quad Processors back in 2006 and since then, they have made a special place for themselves in the tech industry. The Intel Core i7-8700K Desktop Processor stands as the flagship product of the company that comes with 6-cores offering Hyper-Threading Technology.
This was already a big increase from the Kaby Lake Technology and since it features Intel's Coffee lake Tech, the performance this processor offers you with has a whole new level.
The processor features company's highest clock rates that Intel has ever offered that you can accelerate up-to 4.7 GHz by Turbo Boost. However, in terms of higher core count, the processor has minimized some basic frequency setup but it does offset the power consumption and there is no heat generated whiles the utilization of this processor.
As mentioned before, it comes equipped with Intel's Coffee Lake Technology based on a 14++ process that Intel has claimed offers 51% less power leakage and 26% more performance.
When it comes to unlocking the Core i7-8700K Desktop Processor, we chose LGA1151 300 Series ATX Motherboard that ensures the maximum potential is drawn out of this processor.
All the gains of this processor come from the core count and overclocking and because it is based on a Skylake architecture, you cannot expect any speedups from the IPC section. 
Moving on, let's see what LGA1151 300 Series ATX Motherboard has to offer you when you combine the forces of this motherboard with the recommended processor.
The LGA1151 300 Series ATX Motherboard features Intel's latest 300 Series Chipset that ensures your processor's compatibility is not left to any question.
Why we have suggested pairing Core i7-8700K with 300 Series ATX Motherboard is because these motherboards is rich in their feature sets. It supports Intel 8th and 9th Generation CPUs and DDR4 RIM sockets.
When you want to create or build a PC for gaming purposes, you need a motherboard and a processor that are highly compatible with one another and this combination by far takes the cake.
It is highly performance-oriented and the core count of Intel's processor just makes everything worth the while. The combination is also solid because it isn't that expensive.
So, if you are looking for an inexpensive motherboard and processor combination that comes with a mainstream core count, doesn't heat up and offers you most in the tech domain, you have a winner.
Since we have been recommending Intel processors paired with some amazing motherboards, how could we forget the X series launched by this company that gave us a monstrous number of threads and cores?
Our next recommendation is Core i9-7900X Processor which comes with some astounding features and great overclocking abilities. This is a pretty solid motherboard that we have ever come across and it is something you won't be able to get enough of.
Intel has always been known as one of the strongest footholds in the world of CPUs and with the launch of Core i9-7900X, it has up their game quite a notch.
We paired it with a GIGABYTE X299 AORUS Gaming 9 Motherboard and we saw it perform extremely well in toughest circumstances. We have always enjoyed using Intel's processor but there was just something different about this combination entirely.
This processor is already known as one of the strongest and deadliest processors in the market and the gaming speed we got out of it was phenomenal. We have to say that we had never seen such speed and performance ever before. The overclocking was easy and convenient and the cores worked like magic.
The Core i9-7900X attained phenomenal response from the users at its launch because it was no less than a monstrous addition to Intel's new line of X Processors. The only drawback of this processor was that Intel limited its compatibility and it was capable of only working with Intel's X299 chipset. Even though the processor promised phenomenal support, most of the users couldn't utilize it initially because of the motherboard compatibility. Another new feature that Intel Core i9-7900X supported included Intel Optane Memory and SSD support.
As for the gaming abilities of this processor, the company didn't include an integrated GPU in this processor so that is some extra money that this processor will definitely cost you. To get the maximum performance out of this processor, the company sends it's unlocked so you can make the most of its efficiency. It also allows the user to overclock Core i9-7900X at its maximum speed without having to worry about anything.
It provides phenomenal overclocking speed and it comes factory unlocked. All the people who have used this processor have only praised it for its amazing performance and so have we.
It has a lot to offer you when it comes to optimal performance and if you pair it with the right motherboard, the output is surely going to be wonderful.
The power consumption is pretty minimal but the only drawback this processor has is that it doesn't come with an integrated cooling solution. You will have to buy a cooler separately in order to make this work.
AMD Ryzen 7 1800X is a processor worth considering. Do you want to know why? Well, continue following this thread and find out everything you need to know about our next recommendation.
Ryzen 7 1800X is one of the top processors that AMD has ever launched. This is a monstrous chip that is designed in such a way that it will tackle all of your hardest and heaviest workloads. It comes with 8-cores and 16-threads making it one of the most optimal and competitive processors ever launched in the market.
AMD has a habit of launching new processors every now and then but with the launch of Ryzen 7 1800X, the company has kept its word and delivered all the promises to their customers that they ever made. The processor offers you an amazing range of performance and power efficiency.
With the launch of this CPU, the company has brought a true competition in the world of CPUs and once you pair it up with the right motherboard, there will be nothing to stop you from being inevitable in technology.
We are not going to even suggest the possibility of this processor being cheap because it isn't. it is going to cost you a very significant amount but the features and monstrous specifications that it comes with pretty much make it up for the price, offering great value to the money.
One thing that we should mention here is that these processors do not come with integrated GPUs. You will have to get a separate graphics card for this processor that will cost you an additional amount. But if you are only into gaming and are not looking for a processor that will make video editing a whole lot easier for you, we suggest you take a look at someplace else.
This processor is worth buying because of all its major features and optimal performance. However, we have paired it up with a very strong and solid motherboard so one can extract the maximum potential out of it.
The X370 Chipset is the one you need to go for. Both of these tech units are highly compatible with one another and they are bound to give you an experience of a lifetime.
The Prime X370 Motherboard is the new mainstream motherboard launched by ASUS and it comes in a very conventional outlook.
The motherboard support 7th generation processors and offers four DDR4 memory slots that can support up to 64GB of memory. It is highly functional and doesn't lack anything.
The motherboard comes integrated with a heat spreader that ensures your PC doesn't heat up a lot. you can also integrate it with liquid coolers to get maximum support out of it.
The combination of Ryzen 7 1800X motherboard and ASUS Prime X370 Motherboard is phenomenal. Those who have made use of this combination speak highly of it and they have testified that nothing can work better than this combination.
The motherboard and the processor come with monstrous specifications and it is something that you should consider worth buying.
7) ASUS ROG Strix Z390-I Gaming LGA1151 (Intel 8th and 9th Gen) Mini ITX (MITX) DDR4 DP HDMI M.2 USB 3.1 Gen2 Motherboard
Last but not the least, the ROG Strix Z390-I Gaming Processor, when paired with MINI ITX Gen 2 Motherboard, provides you with some great overclocking abilities and optimal performance, something that you won't be able to believe if we tell you but will admit once you have made use of it yourself.
When looking for a processor and motherboard combination, price is a very significant thing to consider and the tag that this motherboard comes with isn't something off the hook. The motherboard is surely pretty pricey but it has some features that you won't find anywhere else.
With this motherboard, for the very first time in history, you will get an I/O shield which is not usually found in smaller motherboards. This is a small piece of technology with great capabilities that you won't need to find heavier techs anymore.
The motherboard comes with an aluminum shroud that also acts as a heatsink that happens to be one of the largest heatsinks that we have ever seen in any motherboard.
We all know that ASUS is famous for its RGB lighting which is pretty restrained in this motherboard. It doesn't come with a lot of LEDs, just the minimal ones that you will able to customize according to your own requirements.
Well, the Asus ROG Strix Z390-I Gaming Motherboard is a solid motherboard, one that you will be able to combine with many latest processors. The motherboard comes with some solid set of features and the price may be a bit high but it does offer value to the money.
Since this is a MINI ITX Motherboard, the power consumption will not be an issue as well. Most of the people also assume that mini motherboards aren't well-capable of overclocking according to their requirements but Z390 is bound to disappoint you in that aspect.
You are going to enjoy all its potential and you will not need to buy any other motherboard for a very long time
So, these are the best motherboard CPU combinations we found on the internet for you. If you have any recommendations in this regard, feel free to let us known through the comments below.