Must have heard a lot about ASUS FX502VM Gaming Laptop? In today's world of trending technology regarding powerful gaming machines, it's pretty famous that among the names of all the gaming laptops available in the market, Asus fx502vm occupies a great mark. Is this really true?
In this article, I will be presenting you with a detailed Asus fx502vm review so that you can get to know whether this budget-friendly gaming beast is worth 1000 dollars or not. Stay tuned, because after going through this review you will have all your questions answered about ASUS FX502VM Gaming Laptop.
So let's get started with it now!
THE CASING AND DISPLAY – Impressively pieced together
ASUS FX502VM comes with a brilliant super saturated display screen of 15.6 inches that's wide enough for a gamer to have all the thrill. Not only the quality is amazing but ASUS is also offering an Anti-glare screen with highly appreciated wide angles (up to 160 degrees). Even after dealing with the screen for hours consecutively, you won't notice yourself getting tired of it at all!
Beautifully combining 1080 pixels with a TN display Panel, no idea what is a TN Panel? Check it out over here. Though many reviewers considered the TN Panel as a major drawback of ASUS FX502VM I would mention here that it's all about what you consider great. IPS Panel that is now introduced in the latest ASUS Models is considered far better than the TN Panel because of its lifelike picture quality display. TN Panel also won't fail to impress you, if you are agreeing to do a little compromise because if you want to go for a pocket-friendly model, an agreement has to be made ?.
Now talking about its CASING, Asus fx502vm consists of a solid jet black chassis, that's very attractive at first glance. The system overall produces a classic look with high quality built. The matte black finish is truly amazing and suits professional gamers.
Since any powerful machine is legit to get heated a lot, ASUS has provided internal cooling operation within the system to facilitate the gamers in the best way possible. These fans are the ultimate reason for its weight, which is very obvious for a strong gaming machine.
A weight of 5.67 pounds is what you will be experiencing from this gaming laptop. Though this weight doesn't disturb the convenience of carrying the laptop since it will easily fit inside a Laptop bag.
PERFORMANCE AND STORAGE – A healthy combo
This model of ASUS comes with high storage of 1TB HDD, which allows you to store plenty of games in your system. And not only games, but you can also keep the walkthroughs of different game levels all stored together in one place. Asus has made sure not to disappoint you at all in terms of storage and has therefore offered an additional storage slot where you can add an m.2 SSD drive.
The Intel Core i5-6300HQ is the processor ASUS is offering, with a 16GB Ram. This combination makes ASUS FX502VM a strong gaming beast, indeed! Let me remind you a fact over here that you aren't going to get any other best combination of a strong fast processor and a lag-free RAM, at such a price range. DON'T LET THIS GO OFF YOUR HANDS!
Next up, the gaming performance. NVIDIA 1060 GPU is the graphics card you would be getting in this model. This Graphics card is capable of providing you immersive gaming experience with all the high-end games that include GTA V, Shadows of War and various versions of Battle Ground as well. If you don't know much about the capabilities of this best-rated card, check it out here.
Here I would say that memory and performance are the two most favorite factors of this laptop, upon which it is chosen as their best choice. I am very sure you are going to rate this powerful combination as your favorite too.
CONNECTIVITY – A host of connectivity options
Firstly talking about Wireless connectivity. Bluetooth 4.0 and Integrated 802.11 AC WiFi, which are the two essential features for any laptop user, are what you would be getting. In case if you don't have access to WIFI, you would also be provided with an Ethernet port in the system to connect the laptop with DSL.
ASUS FX502VM has one it sides full of impressive ports, which are as follows:
• A headset jack.
• Ethernet port.
• A lineout jack.
• An HDMI port.
• D-sub and mini display port
• One USB type-c (generation 2) port.
Want to know more about what the USB TYPE C port in ASUS FX502VM is offering you? (https://www.tomshardware.com/news/usb-31-usb-type-c-refresher,29933.html).
A BACKLIT KEYBOARD – Gamer outlook backlights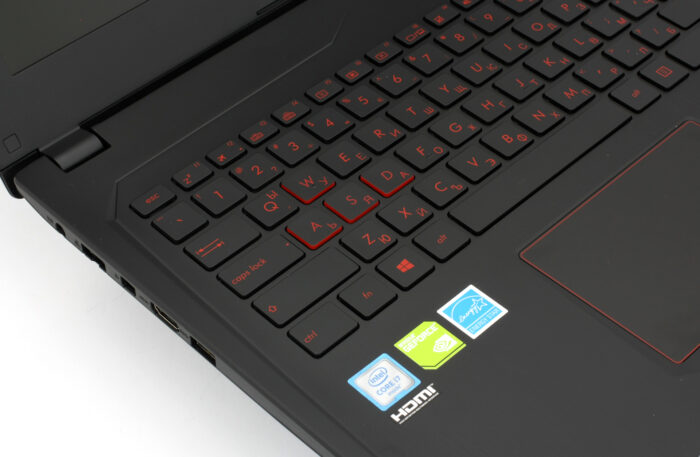 To further enhance your gaming experience, ASUS decided to readily fix a RED backlighted keyboard inside this gaming machine. The fully expanded numeric keypad, along with the 1.6mm gap between the keys makes it super user-friendly to go with.
The touchpad is very smooth and super responsive. Also, the console won't annoy you and lets you grab the gaming keys with maximum ease. I think this keyboard is one of the best ones produced up till now in all of the ASUS lineup versions.
BATTERY LIFE- a gamer has to compromise here
Overall, ASUS FX502VM has decent battery life. Almost every gamer is aware of the fact that the gaming laptop industry literally never concerns itself to battery life since it has other important major things to worry about such as the Processor, GPU, CPU, and RAM.
After the ASUS Laptop's battery tests, it was observed that for high-end games once fully charged it would last as long as 2-3 hours. And for the casual games, it can serve you really best for almost a period of 4-5 hours.
ASUS FX502VM GAMING LAPTOP'S SPECS OVERVIEW
SCREEN SIZE: 15.6 Inches.
STORAGE: 1TB HDD (another slot available for an SSD).
RAM: 16GB RAM.
PROCESSOR: Quad-core Intel i5-6300HQ.
GRAPHICS CARD: GTX 1060 dedicated graphics.
OPERATING SYSTEM: Windows 10 OS.
WEIGHT: 5.67 lbs.
EDITOR'S VERDICT
Delighting its users as always, ASUS has done a great job providing a healthy, strong combination of all the essential equipment as of CPU, GPU, SSD, RAM, and processor. All packaged in one at a budget-friendly rate of 1000 dollars!
What else are you looking for? I wouldn't mention here that this laptop is far better than all other high-priced gaming laptops, but in fact, my personal opinion regarding it states that ASUSFX502VM is a better option to choose from a list of all gaming laptops priced at 1000 dollars.
Apart from some cons in the system such as its dull speakers, and most users demanding for an IPS Panel, this laptop is good to go with otherwise. For more information, check out the following video:
I hope you find my review beneficial. For any queries drop down your comments below, I would love to assist you in all matters regarding ASUS FX502VM my current favorite gaming machine! Let's Check out Best Laptops for Teachers here.
You can also check out which are the best selling Asus gaming laptops on the market: