Binoculars are the most important gear of hunting and you can keep an eagle eye on your hunt if you have the right binoculars with you.
Vortex Optics Crossfire Binoculars
Vortex Optics Crossfire HD Binoculars
Vortex Optics Crossfire Binoculars
Vortex Optics Crossfire HD Binoculars
If we talk about the leading binoculars manufacturer companies of the world, a vortex is on the head of the list. For decades, Vortex is delivering high-quality and fantabulous binoculars around the globe.
The two most exceptionally affordable and high-quality binoculars of the vortex are Vortex Crossfire Vs Diamondback binoculars.
These two well-constructed products often twist their buyers because of having a resemblance in looks and quite similar functions. But wait! If both products have similar features then why are they different?
No doubt both products are quite similar but there are also some differences between their lenses, range, quality, and price. Now the question arises
Vortex Crossfire VS Diamondback binoculars Comparison
[azonpress_comparison id="17″]
Basically, for answering this question we are here. In this article, I am going to do a quick and easy comparison of Vortex cross VS Diamondback binoculars.
Instead of taking all the binoculars range of Vortex crossfire and Diamondback binocular, and jumbling down all the products, I have selected the 8×42 model of both Vortex Crossfire and Vortex Diamond binoculars.
Read on the article so that after ending it up, it would be easy for you to hit the top product. And you will find that which Vortex binocular is the best? And on what bases it's the best from the rest? 
Similarities between Vortex Crossfire and Diamondback Binoculars
Before moving towards the differences between Vortex Crossfire vs. Diamond binocular, let's discuss the similarities.
As I said, both products are well-constructed.
Both Vortex Crossfire and Diamondback binoculars are fully waterproof and fog proof.
Both have multi-coated lenses.
The objective lens diameter of both Vortex binoculars is 42mm.
Magnification of Vortex Crossfire and Diamondback binoculars is also the same that is 8x.
The eye relief of both products is 17mm.
The focus type of both binoculars is center.
Both Vortex binoculars have a 5.3mm exit pupil diameter.
Other than these above similarities, Vortex Crossfire and Vortex Diamondback binoculars are looking wise quite identical and both of them are pretty easy to make a grip.
After reviewing a few crashing features of Vortex binoculars, you might have a question that where are Vortex Crossfire binoculars made? And where are Vortex Diamondback binoculars?
Vortex Company is based in Wisconsin. However, China, Japan, the Philippines, and some other product lines are manufacturing Vortex binoculars.
Without wasting time, let's move to the differences of Vortex Crossfire and Diamondback binoculars.
Differences between Vortex Crossfire and Diamondback Binoculars
For choosing the best one from these two Vortex binoculars, you need to know all the differences between these products. Let's start.
Price
There is a far difference between the price of Vortex Crossfire and Diamondback binoculars. This means that Vortex Diamondback is more expensive than Crossfire binoculars.
If we make a comparison between the prices of both the products you have to pay for Vortex Diamondback binocular $50 to $100 more than the Vortex Crossfire that is more than enough.
From this price difference, it seems that there must be some additional features in Vortex Diamondback comparatively to the Vortex Crossfire binocular. Actually, there are few extra features built in a diamondback that would be discussed later.
Quality
As far as quality is concerned, Vortex Diamondback binocular is an improved optical system that delivers more brightness and color and minimizes the chromatic aberration.
You will find this quality only in Diamondback binoculars because Vortex Crossfire doesn't give any sort of brightness or colors.
If we talk about the close focus range which not often used at all, Vortex Diamondback has 5 feet while Crossfire binocular has 7.5 feet.
Are Vortex crossfire binoculars waterproof? 
Yes, both the products are 100% waterproof & fog proof. Vortex Crossfire and Diamondback are the best binoculars for any weather type rainy, foggy or dusty.
For making them all kind unconditional weatherproof Vortex crossfire is Nitrogen purged whereas Vortex Diamondback binoculars are Argon purged.  
Although, both the Vortex binoculars come with a carrying case I like the Vortex Diamondback binoculars carrying case the best. This case is very custom-molded as the better protection of binoculars and glass lenses.
When it comes to the design again both products are well-constructed and dashing. The wider field view and ergonomic looks of Vortex Crossfire, as well as Diamondback binoculars, make them a masterpiece of Vortex. 
Both Vortex binoculars have VIP unconditional lifetime warranty, which means while hunting if your binoculars get damaged you can replace it with the new pair of Vortex binoculars. 
The prism coatings of Vortex Crossfire are fully multi-coated while the Vortex Diamond binocular is dielectric, multi-layers prism coated. This difference makes the Vortex Diamond more costly and to some extent superior too.
Here is more info about the differences between these two models:
Weight and Dimension
Weight of the binoculars really matter and you should consider this aspect, as a hunter can't go with the heavy or bulky binoculars. The reason is that the freer you will feel to move the more concentrate you would be on your hunt. 
If I compare both the Vortex binoculars Diamondback is lighter than the Vortex Crossfire. The weight of Vortex Diamondback binocular is 21.8 oz however, Vortex Crossfire is 23.5 oz.
Let's move to the dimensions, Vortex Crossfire and Diamondback binoculars are again different as far as dimensions are concerned. The dimensions of Vortex Diamondback are 5.8" x 5.1". Apart from that Vortex Crossfire's dimensions are 6.2" x 5.1".  
This means that Vortex Diamond is lighter and easy to carry while running for the hunt.
Vortex Crossfire VS Diamondback Binoculars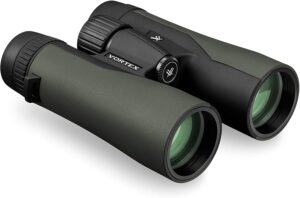 The long-standing debate which is better Vortex Diamondback or Crossfire Binoculars is ended here.
As I have mentioned above that Vortex has made both of these products very tactfully. Both of them are comfortable, easy to grip, sturdy and have a lifetime warranty.
Both Vortex Crossfire and Diamond binoculars are waterproof & fog proof, and tripod adaptable. If you would be tired off of carrying these binoculars in your hands, you can mount them on a tripod.
For the quality of glass and improved optical system, Vortex Diamondback is higher in class. If you have no issue with extra money charging for Diamondback binoculars then you ought to go with the Vortex Diamondback binoculars.
However, if you are not willing to spend extra money like $50 to $100 for these few features, you can choose the Vortex Crossfire binoculars.
Well, I personally feel that if you are fond of hunting or you have to watch on birds you should go with Vortex Diamondback binoculars. Because it has brightness and better color rang for gazing your hunt more likely.
Downsides of Vortex Diamondback Binoculars 
As the Vortex Diamondback binoculars are coasting $50 to $100 than Vortex Crossfire, but not offering that much superior feature or advantages. The functions of Vortex Diamondback binocular are quite similar to Vortex Crossfire but not delivering the features that we are seeking for extra money. 
Downsides of Vortex Crossfire Binoculars
The Vortex Crossfire binoculars are heavier than Vortex Diamondback binoculars. As well as the glass quality of Vortex Crossfire is not that much high as the Diamondback has.
Vortex Crossfire binoculars don't provide brightness and colors. The clarity towards the prey is also not good enough.
Final Words 
Instead of binoculars, whenever we have two identical and high-quality things or products to choose from them, we feel very difficult to do so. But there is no need to worry about or get confused. Just hold down that confusion and try to find out the difference between them just I have done above.
After finding differences, try to analyze what product is the best for your needs and requirements. Then easily go with the one that you seem the best.
Vortex Crossfire vs. Diamondback binocular is the portion of this article that makes you understand the difference between both of them. Apart from that, this article would give you enough information about these two incredible Vortex binoculars.
For making your hunting stress free and safe go with the one which hit you the best as only you know what your needs and requirements are. 
Do share your viewpoint about this article and topic. 
Check out some other models from this manufacturer:
Vortex Optics Fury HD 5000 10x42 Laser Rangefinding Binoculars
The Fury HD 5000 with 10x magnification and 42mm objective lenses, is an extremely effective angle-compensated laser rangefinder binocular intended...
The primary HCD mode displays an angle compensated distance that is ideal for the majority of hunters and shooters with either rifle or bow. An...
Two target modes are available. Best Mode displays the strongest range result and is intended to be the primary mode. Last mode displays the furthest...
XR fully multi-coated, HD lenses and dielectric phase-corrected prisms serve up clear and impressive views from dawn til dusk.
Nitrogen purged for water and fogproofing, along with a rubber armored housing for a solid grip provides a binocular that is shockproof and will stand...