Cat water fountains are something interesting and safe at the same time. Although it will make your cat house look amazing but cats also need it. Why? So they can drink clean water. It is easier for water to get dirty in a pot but not for a fountain, as it will be moving continuously. Furthermore, it will be easier for the cats to drink water.
Another advantage of using a fountain over a bowl is the interest of your cat. Cats are known to have a low water thirst so they drink less water. However, the flowing water will grab their attention and it will make them drink more.
So if you want to have the fountain, you can get it here. They have the 5 best ceramic cat water fountains that you can purchase right away. So it will be of your great help. You won't have to do all the research by yourself. However, we will also provide you with some of the best fountains and a buying guide. So go through the article to learn more.
List of the best
1. PetSafe Drinkwell Pagoda
This one is having a square shape with a fountain at the center. The water drops from two sides inside the bowl. Moreover, you will get 4 color options to choose from. So you can get it in contrast with the things that you already have for your cat. The design is good enough to make your home décor look classy. So you don't even have to worry about a childish look. Furthermore, it has 2 filters that will make the water clean.
2. Pioneer Big max
It has a bowl shape with two water levels. So if your cat doesn't like fountains, this would be a better choice. It will be similar to the bowl with the difference that your pet will get clean water. Moreover, you can easily clean it through the dishwasher. So you don't even have to worry about the cleaning. It filters water through charcoal filters, so you can also replace them when you want.
3. Drinkwell Avalon PetSafe
This one is similar to the first one except for the shape and design. You will get two circular bowls here. The upper bowl has two spilling points and the water won't fall out of the larger bowl. So you don't have to worry about water spillage around your house. In addition to this, it has a 12-volt pump that will keep the fountain working yet keeping it quiet. So even with the fountain, you won't have to worry about the noise.
4. Drinkwell Seascape from PetSafe
This is one of the best looks that you can get in cat water fountains. The spherical ball shape fountain in the center with a rectangular larger bowl gives a decorative touch. It will help your cat to drink water but if you are a person who pays special attention to the design of things, you will surely love it. It also comes with charcoal filters so you can replace them when you feel like changing.
5. Ipettie Tritone
This Ipettie triton might be the best choice for you, as it comes with a 3 years warranty. The ceramic build makes it tougher so it won't break off easily. Furthermore, the dual filtration system will clean water to make it palatable for cats. And again, you will get two bowls so the cats won't have any problem in drinking water.
6. Cepheus 360
This ceramic water fountain offers a water stream in all directions. So cats can drink water without any interruption. The shape of this ceramic fountain is just like a bigger version of ramekins. Moreover, you get 2 color options to choose from. The first one is white and the other is grey. However, you should be careful while cleaning because this one is not safe for a dishwasher, unlike the others. So you might have to put in some extra effort for the cleanup.
Buyer's guide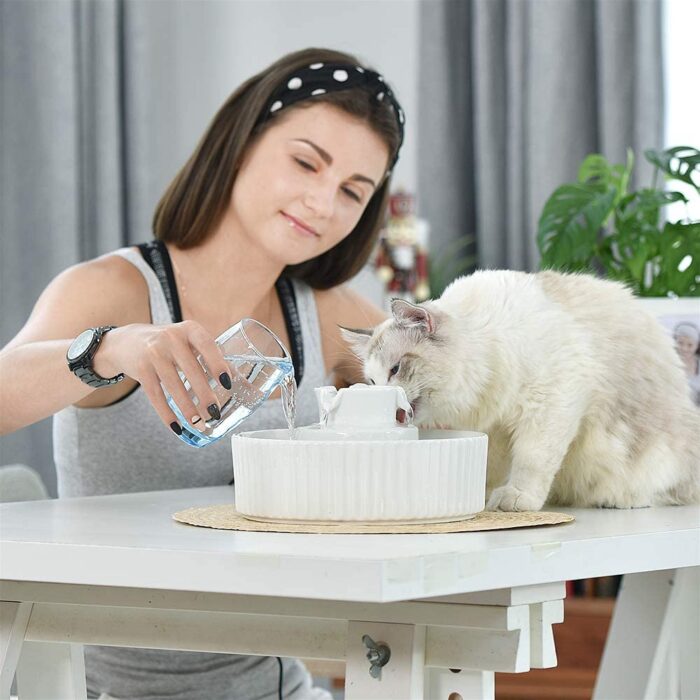 Now is the time to look at important aspects that will help you with your purchase. So when you are searching for the fountains, do look for these features.
1. Size of bowl
The size of the bowl or reservoir is quite important. You should always prefer a larger reservoir as it will be easier to manage. Though kittens drink less water but they will grow bigger in a few months. Furthermore, with a larger bowl size, you won't have to refill water. So if your cats are more in number, a bigger one will be there to deal with their thirst.
2. Number of spouts
The more cats you have, the more spouts you will need. Sometimes it becomes difficult for the cats to drink water together. But if there are more spouts, more of them can drink at the same time. You get bowls with 2 to 4 spout options. So get it according to the number of pets you have.
3. Material of the bowl
You should pay special attention to the material. Cats can easily break off a plastic one. Furthermore, plastic fountains do not have much weight. Instead, you can get ceramic ones. They are heavier, classier and durable than the others. But ceramic fountain also has varying qualities. So pay attention to the quality of the material that you get.
4. Filtration system
You must always get a filtration fountain. The concept of using a fountain is to prevent water stagnation so that the water remains clean and drinkable and filters do that. Furthermore, filters deal with bacterial growth and also hair and dirt.
5. Noise level
Your cat won't like a noisy object, it will keep its distance from it. Therefore, pay attention to the noise level of the fountain you get. The sound should not be more than 40 decibels. It will keep a quiet environment for your home as well as for your cats.