If you are looking for possible ways to change the graphics of your laptop, then you are in the right place.
In today's article, I am going to explain how you can change the graphics card in a laptop. We will also look at what laptops (brand) allows you to change their graphics card.
Why don't you have a look at one of our previous articles that relates to our article, explaining the best gaming laptop GPU for 4k Gaming and recommended Gaming Laptop GPUs for 4k Gaming?
In most cases, people will tell you that it is not possible for you to change the graphics card; they are right somehow because most of the laptops do not allow you to upgrade the graphics card.
Now, this is not a final verdict and do not be disappointed. There are various methods to change the graphics card as discussed below in the article. Let me divide this into two categories to make it simple.
Graphics Card Explained – Main Use of Graphics Card
Graphics card is special hardware that is responsible for processing the graphics; images, colors, motion effects, etc. on your laptop/computer. It depends on the quality of graphics you need the higher the graphics the higher is processing unit.
Integrated Laptop Graphics Card
Graphics in standard laptops; that used for general purpose, and routine work comes worth the integrated option.
The processor integrated with a GPU Unit that allows fulfills your regular need like watching HD movies, High-Resolution pictures and playing small games.
Here the graphics card uses the processor and RAM function to process the graphics card.
Dedicated/Discrete Laptops Graphics Card
On the other hand, the graphics card in a gaming laptop comes with a discrete graphics card option.
A discrete graphics card in laptops or computer has a separate slot in the motherboard of the computer. This makes the graphics processing different from the processor as discussed in the integrated laptop graphics card.
How Does Graphics Card Work
Graphics card or GPU is hardware designed to process the digital (graphical) data. It receives, filters and processes the images, pixels, resolution and screen appearance to give the best and desired results, as the specifications it has.
Can you insert Graphics Card in a Laptop?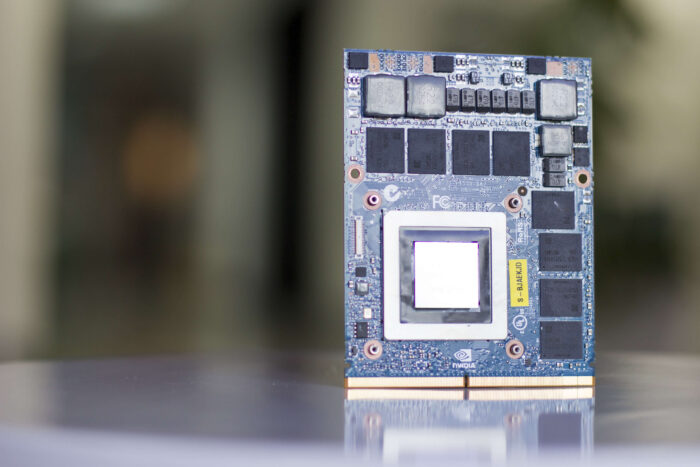 Yes, you can enter a graphics card in a laptop. This method usually used when a computer does not have the option to add or upgrade the card in the motherboard.
Also termed as GPU-Graphical Processing Unit, that requires memory and processing unit to perform all the graphical; colors, pixel, screen location, etc. functions.
If your laptop supports the USB type-C port, then you are the lucky one. This means that your USB port allows 40 Gigabits per second transfer of the data to support the PCI-E protocol.
3-Steps to Connect an External Graphics Card
Your laptop must have a USB Type-C port.
Find a GPU Dock that has a pre-installed graphics card.
Connect the laptop with the dock station with a USB power cable.
Common Questions about Upgradable Laptop for Graphics Card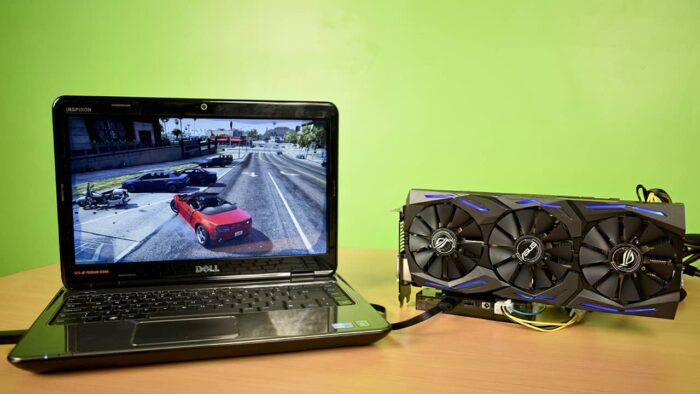 Can you upgrade the Graphics Card in an MSI Laptop?
MSI manufactures gaming laptop that gives you the best performance in gaming. Using the latest technology in processor and graphics offers 8-10 best graphics card.
MSI usually does not offer any upgrade; MSI provides only one update for GT80 & GT80s. All of the enhancements in MSI laptops for graphics will cost you high as all the systems specification, and main hardware functions made (Pre-designed) for the laptops need accordingly.
Therefore, the answer to you is yes. You can upgrade the Graphics card, but it will cost you high.
Can you upgrade the graphics card in an ASUS Laptop?
If you are looking to upgrade or changing the graphics card in the ASUS laptop, I will not recommend it, because if you are going to do it, you have to replace the whole GPU Sink.
As the ASUS laptop machine, algorithm and BIOS settings designed for the current state. This will cost you a lot, and I recommend buying another laptop.
Can you change the graphics card in a Lenovo laptop?
No, sorry to say this but you cannot change the graphics card directly in Lenovo. However, there is another way as we discussed earlier. You are going to need a USB Type-C port to support the PCI-E protocol for connecting a mobile graphics card.
Can I use an external graphics card on my laptop for gaming?
If you have a laptop that supports Thunderbolt 3 port, then you can use an external graphics card. Also, your computer must have a USB Type-C port to connect the Graphic Dock Station.
Conclusion
In today's article about changing the graphics card in a laptop, we have discussed how graphics card work, types of graphics card; integrated and dedicated graphics card.
You can change the graphics card; it depends on the laptop; manufacturer and model, that specifies whether you can upgrade it or not.
I have also discussed the various brands of laptops and the questions most users have. I hope this article explains the necessary things related to the graphics card of a computer.
Do comment and let us know what's your opinion on this.