Our Pick
Good Choice
Don't Miss
Also Consider
Sennheiser Wired Professional MKH 416-P48U3 Short Shotgun Interference Tube Microphone,Black
Shure SM7B Dynamic Vocal Microphone
RØDE NT-USB Versatile Studio-Quality Condenser USB Microphone with Pop Filter and Tripod for...
Neumann TLM 103-MT Large Diaphragm Cardioid Microphone, Black, XLR
Our Pick
Sennheiser Wired Professional MKH 416-P48U3 Short Shotgun Interference Tube Microphone,Black
Good Choice
Shure SM7B Dynamic Vocal Microphone
Don't Miss
RØDE NT-USB Versatile Studio-Quality Condenser USB Microphone with Pop Filter and Tripod for...
Also Consider
Neumann TLM 103-MT Large Diaphragm Cardioid Microphone, Black, XLR
Introduction
It is the age of social media and one of the most popular forms of it is podcasts and recordings. When one thinks of choosing this as a career option, the question arises as to which microphone to choose. The selection of a microphone is not a trial and error-based process but one of much research. It would require one to consider many factors like budget, requirements, quality, and durability.
Here are some of the top microphones available for voice-overs in 2023 to make your job of selecting one easier.
Top Seven Microphones For Voice Overs
1. Audiotechnica At4040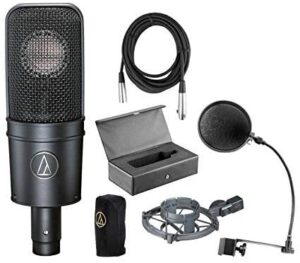 This spectacular model offers quite a lot for its price. It is a condenser microphone that is said to pick up on a wide array of sounds. It can catch soft frequencies without much distortion. It comes with a diaphragm that makes sure the sound transmission is super smooth. The model itself is a sleek and stylish one, which is not going out of fashion any time soon!
One can also purchase the entire bundle along with all the required accessories for a very reasonable price.
This model comes with an XLR connector and requires a separate audio interface, and the microphone itself comes with nickel-plated brass, an acoustic element baffle that ensures a high amount of sensitivity while recording.
Features:
True condenser design (DC bias)
Low noise, wide dynamic range, and high SPL capability
Five- year limited warranty
2. Rode Nt1-a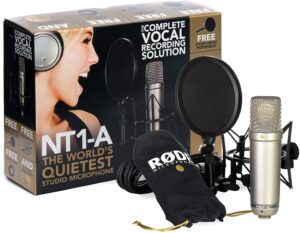 This beauty is probably every voice artist's dream equipment at this price range. It is a cardioid condenser type of microphone that records at a very high quality. The sound recording unit is located in front of the microphone and the unit comes with a large diaphragm for increased clarity.
This microphone requires an XLR connector and cannot be used with a regular USB cord. It also contains a Rode SM6 shock mount, pop filter, and dust cover.
Despite being highly sensitive to low sounds, its special filter reduces any ambient noise reflections. This makes the job of editing much easier than in other microphones.
Features:
Large-diaphragm, 1" gold-sputtered capsule
Wide dynamic range
True condenser
Frequency range: 20Hz-20kHz
Maximum SPL: 137dB SPL
Maximum output level: 13.7mV
Sensitivity: -31.9dB re 1 Volt/pascal
Warranty: 1 year with free extension to 10 years after registration
3. Blue Yeti Pro

This microphone is one of the first of its kind in the market, with a cardioid recorder, which claims to have one of the richest recording experiences in the market. It records high-resolution 24-bit/192kHz audio which is probably the highest quality recordable with a USB. It boasts three custom condenser capsules and four pattern settings which makes recording so much easier.
It provides four settings: cardioid- recording voices right in front of the microphone
Stereo- captures audio from multiple directions, making it useful in situations like band recordings
Bidirectional- record a field both in front and behind the user, making it useful in interviews and duets
Omnidirectional- providing a facility to record audio in multiple directions, in a 360-degree zone.
It is a beautiful silver-black metallic finish that makes the entire process look stylish.
Features:
Studio-quality audio with USB cable
Three condenser capsules
Four record patterns
Adjustable microphone gain control for different volumes
Maximum resolution: 48kHz/16-bit
Zero-latency headphone monitoring for recording without any delays
Frequency response: 20Hz-20kHz
Maximum SPL: 120dB
4. Rhode Nt-USB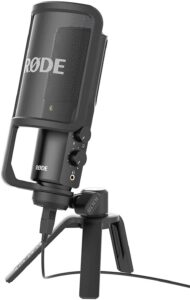 Another brilliant product by Rode, which brackets all the missing aspects of Rode NT1-A. This versatile microphone is USB compatible unlike the previously mentioned model and has a side-address microphone. This makes it the perfect microphone for musical recordings and podcasts.
It brings a zero-latency stereo headphone jack, which allows no room for any delay in a real-time recording situation. It comes with a pop filter which aims to minimize the plosives, making it very pleasant while recording music. It is also compatible with the SMR shock mount and WS2 foam windshield.
Features:
Pop shield, tripod, ring mount, 6m USB cable, and storage pouch included
3.5mm stereo headphone jack with zero-latency
Resolution: 16-bit
Frequency range- 20Hz-20kHz
Maximum SPL: 110dBSPL
Warranty: one year with free extension for two years after registration
5. Neumann Tlm 103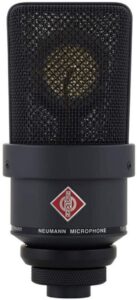 This microphone is a higher-end product, specifically suited for those who are very keen on investing in a premium quality microphone. Most high-end recording studios prefer this series and with good reason. This is again a cardioid pattern recorder, which means its recording point is in front of the microphone. It brings a broad presence, capturing most of the sounds in a wide area.
The Neumann series has a very low self-noise of 7dB-A only, providing one of the best qualities of sound. It also provides a wide presence boost for frequencies above 5kHz. This specific model is said to be inspired by its classic U87.
Something that needs to be noted is that it does not come with a shock mount unlike many other models and it has to be purchased separately.
Features:
Cardioid directional pattern
Frequency range: 20Hx-20kHz
Sensitivity: 23mV/Pa
Maximum SPL: 138dB
6. Shure Sm7b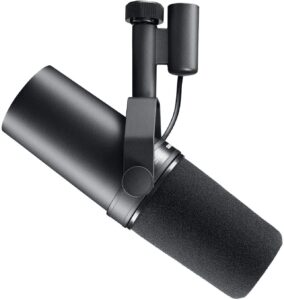 Another cardioid microphone is excellent within this price range, especially suited for a beginner. It has a wide-range frequency response and record with great precision and clarity. They also come with an air suspension shock isolation and also a pop filter which eliminates other noises.
It also shields other electromagnetic sounds, like the computer hum which brings focus exclusively to the recording material. It is best equipped for close recordings as they make sure the sound is smooth and pleasant.
The construction of the microphone itself is tough yet stylish, with a detachable windscreen and switch cover plate.
Features:
Wide-range frequency response
Cardioid microphone
Sound shielding of electromagnetic hum
Air suspension eliminates mechanical noise
A7WS detachable windscreen also included
7. Sennheiser pro audio MKH 416

This brand has never disappointed us when it comes to quality. This specific model is a short shotgun interference tube microphone which is the perfect choice for broadcasting outside.
Its tube structure brings a focussed directivity to recordings. It also is a transformerless model which makes it extremely handy and well-balanced.
It has low inherent self-noise with high sensitivity. It is also equipped with a low proximity effect which balances very close sounds. The build of this model is equipped for rough, outdoor usage.
Its working principle allows it to be insensitive to other sounds by wind and pop noises making it best suited for broadcast recordings.
Features:
Super-cardioid microphone with shotgun condenser
Frequency response: 40Hz-20kHz
Sensitivity: -32dBV/Pa
Interference tube principle
Rugged build
Buyer's Guide To Buying The Best Microphones For Voice Overs In 2023
The market offers a plethora of voiceover microphones, and many of them are pretty good. So how do you know which one is best for you? There are a couple of important features that need to be noted when it comes to choosing one that would satisfy your needs. Once these details are chalked out, then picking a product would become so much easier and well-suited. Let's take a look at some of the key factors:
Type Of Microphone
There are two main types of microphones for voiceover: condensers and dynamic microphones.
A condenser microphone picks up even the slightest of sounds. It has great sensitivity and a record of detail. This can be very useful in studio recordings. The problem arises when it picks up sounds that are not required, especially in settings outside the studio.
A dynamic microphone does not record a great amount of detail. It picks up adequate sounds and focuses on the primary recorder. The background details are eliminated in this case. This can be used to our advantage, especially if we do not want background noise to be recorded. These are also not as costly as a condenser microphone and do not require phantom power sources.
Frequency Response
The diaphragm of the microphone plays an important role in determining the frequency response of the microphone. For example, a large-diaphragm will capture deep, bass sounds and are better suited for such recordings.
A smaller diaphragm will record high-pitched, loud, high-frequency sounds, such as a female voice. These are better suited for a high-pitched input. Keeping this in mind will make the microphone better adapted to the user.
USB Or Xlr
There are two types of audio input. The first one is our familiar USB port. This is much cheaper and convenient as it only requires an additional cable. The quality of audio recorded through the USB input is significantly lower than that of an XLR input. Another factor to be noted is that a USB microphone is dependent on the computer and might not be as versatile as an XLR microphone.
An XLR input microphone requires a separate audio interface, which costs more. With the higher cost comes a higher quality of audio. Along with this, the audio interface helps in easy control of output sound and makes it very easy to vary the volume quickly.
Depending on whether the requirement demands the features offered by an XLR, one can further narrow down the options.
Budget
Last but not the least, the budget plays an important role in selecting a microphone. There are many microphones available at an affordable cost with a good quality of recording and a few with a higher cost, offering a premium recording quality. Set a budget that is both affordable and reasonable. Just remember, costlier does not always equate to better, especially if we don't know what we are paying for.
Conclusion
There are plenty of models available in the market, ranging from amateur voice artist's microphone to professional studio recording microphone. While making a decision, it is recommended that one analyzes the exact requirement and then zero in on a model. Furthermore, it is even better if models can be sampled from a friend before making a purchase. Trying at a store could also help before making a purchase online.
I hope this article can help you in making your decision of buying the perfect microphone which suits your needs.
FAQ's
Will I need any other accessories along with the microphone?
There are a few basic accessories that are required along with the microphone and some brands might provide them as a part of the package. Headphones, good quality headphones are a must while recording. A microphone stand, a floor-mounted microphone stand is always preferred. It is not recommended to use hand-held microphones for a voiceover recording for long periods. Pop shields are filters that block out breathing sounds and plosives, making the audio crisp and pleasant. Shock mounts, help in reducing and neutralizing the vibrations which are picked up while recording.
What are preamps and do I need them?
As the name says, preamps or preamplifiers are devices that amplify lower signals to the standard readable form. Many microphones already come with an in-built preamp, but in case you are looking for high quality, a preamp is recommended. For a beginner, an in-built one provides adequate clarity.
Can one microphone be used for different functions?
Each microphone type is specific to its use. A bidirectional microphone cannot be used in situations with audio input in all directions and a dynamic microphone cannot be used where high sensitivity is required. While the audio will be recorded irrespective, one cannot expect top-notch quality while using one type of microphone for another purpose.
How about built-in microphones?
Almost all devices now come with a built-in microphone, but these are meant for domestic uses like skype calls and voice commands at the most. Once a microphone is used, there's no going back from the satin-smooth recording, especially if you are considering voiceovers as a profession!
It is also to be noted that microphones that come along with gaming headphones or a webcam do not provide adequate quality when it comes to professional recordings. Investing in a microphone might look like an expensive investment while making the purchase, but would be worth it in the long run.
Take a look at these microphones also: