Our Pick
Good Choice
Also Consider
Soundproofing Acoustic Studio Foam - Burgundy Color - Wedge Style Panels 12"x12"x2" Tiles - 4...
Donner 12 Pack Sound Proof Foam Panels, 1" x 12" x 12" Acoustic Panels, Wedge Sound Absorbing Panels...
JBER 24 Pack 2" X 12" X 12" Acoustic Foam Panels,Soundproofing Wall Studio foam Panels wedges,Sound...
Our Pick
Soundproofing Acoustic Studio Foam - Burgundy Color - Wedge Style Panels 12"x12"x2" Tiles - 4...
Good Choice
Donner 12 Pack Sound Proof Foam Panels, 1" x 12" x 12" Acoustic Panels, Wedge Sound Absorbing Panels...
Also Consider
JBER 24 Pack 2" X 12" X 12" Acoustic Foam Panels,Soundproofing Wall Studio foam Panels wedges,Sound...
Introduction
It is possible for you to feel overwhelmed when purchasing something simple but crucial for your home studio. Acoustic panels absorb sound and noise which helps you make sure that you do not have irritated neighbors every time you want to play your instruments.
Acoustic panels come in various sizes and each one offers a different kind of effect. Let us take a look at some of these acoustic panels.
Top Acoustic Foam Panels For Your Home Recording Studio
1. Donner 12-pack Acoustic Foam Panels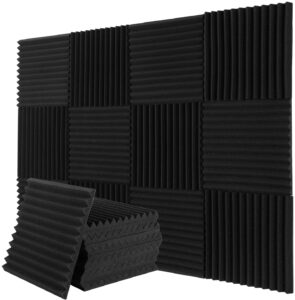 This product has been used widely for the sole purpose of a professional recording area. It helps absorb sound which helps in reducing the reverberation waves. This helps you record your audio better without the involvement of echoes and reverbs.
The panels have been made with good quality materials that are also eco-friendly and the use of high-density polyurethane makes it a reliable product that is super safe to put to use. You do not have to worry about the foam panels deforming due to compression for long periods.
You can simply soak them in water and give them time to dry on their own or you can use a hairdryer if they need to be used instantly and ta-da! They are back to their original shape. With the wedged style, the area that comes in contact with the sound is increased significantly.
This helps in better absorption of sound, making your recording experience a whole lot better.
Features:
The entire pack can cover about 12 square feet of area on the wall or the ceiling.
The size of a single acoustic panel is 1"*12"*12"*.
You do not have to stress about the foams losing their shape due to long-term compression.
2. Soundproofing Acoustic Studio Foam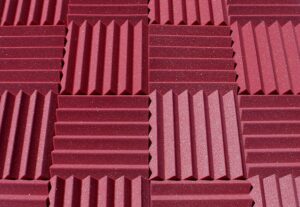 This product has a wedged-styled design that looks classy while also ensuring that optimum sound is being absorbed. You can use this product temporarily or permanently, and if required reuse it in case you are switching homes.
This is a 24 piece pack, so if you have a lot of space to cover, this pack should do. You can install the product with pushpins, double-sided tape, 3M command strips, etc. these acoustic panels should help you trap any unwanted echoes effectively.
They are 2 inches thick, so, expect these panels to absorb medium to high frequencies. Wedged-styled design is the most desired for those who are looking for moderate sound absorption.
This means that external sounds can still be heard inside the room installed with these panels but pretty faintly, which is easy to ignore subconsciously. In short, you will be able to create an amazing listening or recording environment.
Features:
These foam panels are perfect for you to use at your home studio.
It is a low-cost solution you can find to the issue of a proper recording area.
These panels can be installed pretty easily and can be used temporarily as well.
3. Soundproof Sound Insulation Absorbing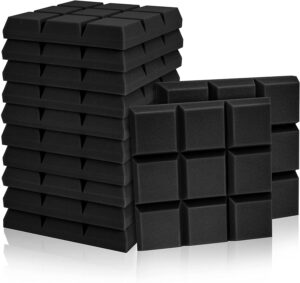 If you live somewhere where it is important to be able to hear the external sounds but not too loudly, for example, you would need to hear the sound of a horn at the end of the street if it is by your mailman, moderate sound control is what you require and this product does just that!
It surely absorbs the unwanted echoes, flutters, waves, and reverbs experienced by many musical artists while recording their music. Since the product is made up of eco-friendly polyurethane, you can say that the panels work well without causing any harm to the human body.
To help recover the acoustic panels to their regular size, you can just unlock the vacuum package and let it sit in a ventilated area for a day or two, roughly 24-48 hours. Another way to do the same is to soak the foam in water for a minute and then, let it dry under the sun or use a hairdryer.
You can use it anywhere you would like, and it can be cut according to your wish as well.
Features:
Blocks external sound enough to get annoyed but still be able to hear what is going on outside.
It is easy to cut it.
Made up of good material.
4. Jusoney 24 Pack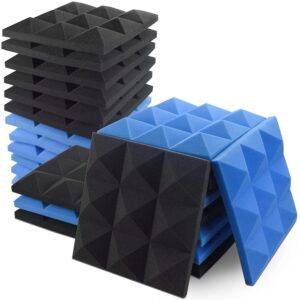 You will get about 24 of these acoustic panels in a single pack. These panels are about 2 inches thick which provides a better soundproofing experience overall. You can use these acoustic panels as a decoration for the walls as well.
The acoustic panels are made out of high-quality sponge foam, so this makes them pretty safe for usage at your house or studio to help you record the best audio clip you have ever made.
Since the sponge foam is durable and pretty effective, no health risks are making it secure to put to use. These acoustic panels will block the noise from the outside effectively which will create some serene, peaceful silence for you to enjoy.
To install this product, all you will require is glass glue and some double-sided tape along with a wall. To restore the panel, you will need to soak the foam in water and let it dry for at least 24 hours.
Features:
It is super easy to install this product.
The size of a single acoustic panel is 2"*12"*12".
They add some blue to the room and are effective in blocking external noise as well.
5. Jber Acoustic Foam Panels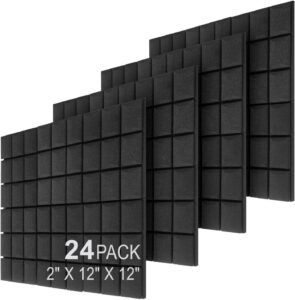 This product is the last on our list but not the least one as it can be found in other colors as well. This product specifically comes in the classic black though and would go perfectly in your house.
It is a pack of 24 acoustic panels and the acoustic control can be called professional. It would be ideal for small and medium-sized rooms as a single panel is of the size 12"*12"*2" and is highly responsible for the improvement you can notice in audio quality.
It does this by reducing the echoes and noise in the background. You can use glue, nails, or 3M adhesive tape to install these panels. Put them up on the walls, ceilings, or doors and you are good to go.
Features:
These panels are uniform and thick for better soundproof quality.
They can be installed pretty easily.
Improve your audio quality.
Buyer's Guide To Buying The Best Acoustic Foam Panel For Your Home Recording Studio
Choosing the right set of acoustic panels can definitely be a tough job but the buying guide below will make your work easier.
The Patterns On The Surface
Acoustic panels come in various designs but while there are the plain, simple ones, anyone would agree that some design is always pleasant for the human eye to notice. When you factor in the range of colors and patterns, you will see that the sky's the limit to how creative it is possible to get with acoustic panels.
Today, most panels you will come across have designs inspired by natural surfaces. They go perfectly with urban spaces and you get to choose the design you want in your studio, so, you get to style up your home studio better while the noise can be controlled significantly.
The patterns on the surface do not make much difference to the overall performance of the acoustic panels. Although, designs like the wedges will make you spend more time cleaning them as they tend to collect more dust.
Thickness Of Your Panel
There is not a specific thickness for an acoustic panel to be called ideal, although, it would make sense to say that the thicker the panel, the better it works. This is equivalent to saying that thicker acoustic panels provide better soundproof quality.
Thicker panels can absorb low-frequency sounds, therefore, more sound than thinner acoustic panels. Although, the thickness of the panel you desire is largely dependent on which instrument you are using.
If it is an entire band, thicker panels will be the best option for you but if it is just a saxophone, cello, piano, trumpet, or violin, thinner panels will do. Just make sure that you know where these panels are going in your home studio and you should be good.
The Rating On NRC (Noise Reduction Coefficient)
You should always pay attention to the NRC rate, also known as the Noise Reduction Coefficient. It is one of the most vital parts that should be given sufficient attention. The reason behind this is that the entire reason an acoustic panel is being shopped and is because you are looking to reduce and absorb noise.
The NRC rate simply shows how much sound is the panel capable of killing. You are likely to find the NRC rating on every panel you come across and those that do not have this rating, well, is not worth your time.
If the NRC rating is high on an acoustic panel, know that these panels can kill sound better than those panels with a lower rating, simply said, the higher the NRC rate, the better. This is an important factor to consider when purchasing acoustic panels. So, do not shy away from this.
The Quantity And Dimensions Of The Panel
Every brand that offers acoustic panels, packs them in sets. You can expect about six, twelve, or twenty-four acoustic panels in each type of pack. The size too can be classified into three types, 1ft², 2ft², or 2ft by 4ft.
The dimension of the panels is not given a lot of importance but if you look closely, you will see that it is vital to dig up on the dimensions of a single panel as you can fit your wall or ceiling without causing any trouble.
This largely affects the area you are looking forward to soundproofing. To avoid any issues, remember to take measurements of your wall or the ceiling. This will help you estimate the number of panels you will need along with the size of them. This way, you will not end up buying unnecessary acoustic panels either which could be a potential waste of money.
The Pricing
Since you are looking at acoustic panels, we can safely assume that you have enough of a budget to spend a couple of bucks on these panels. You can watch out for useful features in the acoustic panels but make sure that they are in your budget as well.
Conclusion
It would not be surprising if you find it difficult to shop for an acoustic panel if you have never had to use one before. This could be because you recently got an acoustic drum set that produces a lot of volume with a single touch.
You may or may not know a lot about acoustic panels and how they work but that is what the buyer's guide above will help you with the most. You will find your way to the right-sized, acoustic panels in no time.
FAQs
Where are you supposed to place your acoustic panels?
The spot you give to your panels is not all that important. Just place it in such a way that it does not look out of place as wherever you decide to place it, it will absorb noise effectively. But to help them absorb the most amount of noise, placing them near the reflection points would be ideal.
How can you determine which thickness is best for you?
Acoustic panels come in two thicknesses, 2" and 4". Many say that the thicker the panel, the better absorption of sound as thicker panels are soundproof and provide better quality. Although, the industrial standard is 2". 4" is not always necessary.
How can acoustic panels be useful?
Acoustic panels are nothing but panels used to absorb sound. They can be placed anywhere, be it the ceiling or the wall in a studio. They are largely responsible for your neighbors not filing a police complaint about the sound your musical instruments make as they reduce noise while controlling the sound.
Take a look at these acoustic foam panels also: