You are planning on renovating your home but can't decide what to do with your walls. The dilemma between regular paint and wallpapers may become big. Styling your home can be done much easier with a simple use of wallpaper. With a different variety of colors, textures, patterns the choices never end so you can be way more creative using these wall decals than the regular paint.
Decorating your home to your taste is very essential so you can enjoy every moment there. A relaxing and calm atmosphere is vital to your well-being. With so many different options you can really set the mood right. Loving your home is very important but when someone else compliments it you love it even more.
We wrote this article to help you with your wallpaper choice to make your walls more pleasant so you can feel calmer and more relaxed, while also going through some of the benefits which they offer.
Benefits of using wallpapers
Using wall decals has many benefits. If you have some imperfections on your walls, they can be simply covered. They are also very simple to clean, you can even scrub some of them but always look on your wallpapers manual so you don't damage them. They last longer than regular paint, and if you think that you are trapped with them forever, you are wrong. New technology makes them better so you can peel them off right away in one piece without making a mess. Protecting your walls is another benefit.
Choosing many different colors, patterns, textures can add depth to your design. They can make your home look expensive while being on a budget. You can also hang them yourself if you are a DIY person.
We saw some of the benefits, it's time to go for the list.
1. Dark Smoke Mural
With those neutral colors, the wallpaper can match the remaining of your furniture. It sets the mood right, it is relaxing and makes you calm just by seeing it. The other space is not closed. Being a great living room wallpaper it is a good background for your tv since there is a great contrast. Also if you have ambient light on your tv it may look very cool on this design.
2. Abstract Colorful Smoke with Tree Mural
It is wonderful wall décor for your hallway walls. While also being gray and make you feel more relaxed, it has a blue color that punches through the greyness. The design is linear and it can lead your way to the living room. Your guest will love your home within the first step they take in your house or apartment. It has a wonderful eye-catching décor.
3. Dark Fog Pattern
Adding a kitchen wallpaper makes your kitchen look more modern. Everyone wants to feel calm while eating so this décor is a very good idea. In addition, it makes your stay in the kitchen more pleasant, you may even want to take cooking as a hobby.
4. Watercolor Abstract Smoke Mural
Making your bedroom unique and pleasant has to be your priority since it literally is intended so you can relax and have your rest there. With a calming bedroom wallpaper like this one, that may be guaranteed. Having a neutral color background while also having a smokey colorful design it's easy to match it with your bedroom furniture. The colors will calm you so you can fall asleep faster and also you will be in a good mood every day you wake up.
5. Blue Smoke Pattern Mural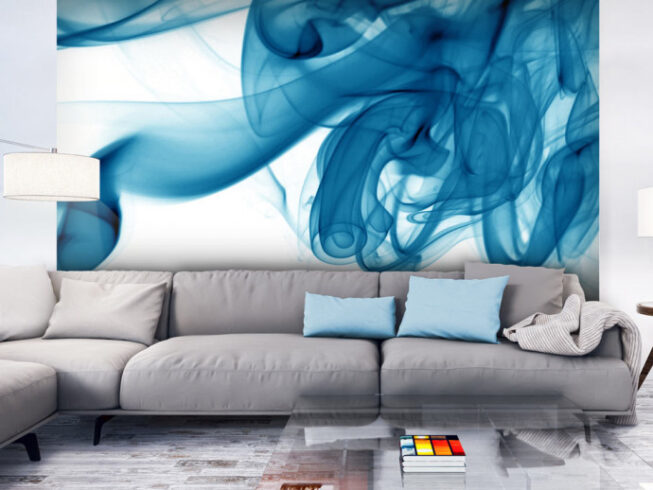 Decorating your kid's bedroom has to be done properly. This beautiful décor will help to hide some stains since kids can be a little clumsy. They need live colors but they also need a calming environment. Kids are hyperactive during the day, they need playtime but also they need a good 10-hour sleep. This blue smoke pattern will calm them down quickly, and it will help them have sweeter dreams. This harmonic atmosphere will help them learn quicker.
6. Dark Smoke with Marble Pattern Mural
Another salon wallpaper that sets up the mood right. You can place it behind the sofa so it makes a good contrast. It has a white, gray, and black combination so it's an easy task to implement it in your design. With a nice marble pattern like this one, you don't need to hang paintings on top of it. It has a very aristocratic look so it's a good way of making your property look more luxurious.
7. Watercolor Black Brown Smoked Mural
Styling your kitchen with this kitchen wallpaper has many benefits. If you click here, you can see that it looks pretty clean, but keep in mind that this smokey wallpaper can hide stains very well. It leads to a pleasant atmosphere so you will enjoy cooking your favorite meals and it will lead to a better cooking experience. You will feel pleased having every meal with your family or your close ones there.
Things to consider when buying a wallpaper
The color of the wallpapers has to be complementary to the color of your furniture. It can be either a different color that fits the theme or the same color in a different shade. With papers like these, you can add texture to the walls, it doesn't have to be smooth. Keep in mind that the design can be continued throughout the other rooms so you can have a better flow.
You don't need to stick wallpapers on all your walls, remember the price is on every square meter so that can become expensive. You can instead cover just one wall to make a difference in the room. Remember to measure how much you need before going on shopping because you don't want to buy less. Looking for design ideas on the internet can be good, but you can also be creative and choose your own, you don't have to copy them. Just do what makes you happy and satisfied.