Suppose you are just sitting on the roof of your home for the completion of a home project under a very scorching sun and your air compressor is taking too much time to refill the pressure in a nail gun. You would probably be faint away in the middle of your work.
Best Choice
Good Choice
Don't Miss
Also Consider
BOSTITCH Air Compressor Combo Kit, 3-Tool (BTFP3KIT)
Makita MAC2400 2.5 HP* Big Bore™ Air Compressor
Rolair JC10 Plus 2.5 Gal Electric Air Compressor
Campbell Hausfeld 8 Gallon Portable Quiet Air Compressor (DC080500)
Best Choice
BOSTITCH Air Compressor Combo Kit, 3-Tool (BTFP3KIT)
Good Choice
Makita MAC2400 2.5 HP* Big Bore™ Air Compressor
Don't Miss
Rolair JC10 Plus 2.5 Gal Electric Air Compressor
Also Consider
Campbell Hausfeld 8 Gallon Portable Quiet Air Compressor (DC080500)
To avoiding this situation and giving you an answer to this question, what is the best air compressor for a roofing nailer? We are here with an article along with a list of the best air compressors for roofing nailer.
If you are going to buy a new air compressor, then read this article till the end. So that you will understand the functions and features of different compressors, then you could be sure and invest your money in the best air compressor.
When you step into the market for buying a compressor, almost all the compressors seem to be the best. But the test starts when you start working with it. Firstly, we are going to discuss the CFM (volume) and PSI (pressure) of compressors and will see how they affect the performance of your nail gun.
What is CFM of Air compressor?
CFM stands for Cubic Feet per Minute. It measures the flow rate of air pushed out by a compressor. CFM is vital in compressors because it is directly related to a compressor's performance and efficiency.
What is the PSI of the air compressor?
PSI stands for Pounds per Square Inch, the English measure unit of pressure. We can estimate how much pressure does our compressor is exerting by the PSI unit. PSI associated with compressor performance.
After discussing CFM and PSI, let's discover some best air compressors for roofing nailers in the market. Here we go. 
List Of the Best Air Compressor for Roofing Nailer In 2023
1: BOSTITCH Air Compressor Combo Kit, 3-Tool (BTFP3KIT)
This oil-free BOSTITCH Air compressor is ideal for no maintenance. With this compressor, there is no need to worry about spending extra money on the support of your air compressor. Moreover, lubricated compressors often stain on the surface that looks hazy and difficult to wipe.
It is quite portable and easy to move because of its 43.6-pound weight. You can transport this compressor from the site to the site comfortably.  Because of its 21.1×19.5×18 inches size and 15 feet hose length, it occupies less space so that you can place it anywhere. 
BOSTITCH air compressor provides a maximum pressure of 150 PSI for quick working. The 6.0 gallon (22.7L) of ideal tank storage makes it more efficient and long-lasting. It is essential to have peace in your workplace, with this air compressor you would be able to work in a quieter and peaceful environment because of just 78.5 dBA. 
It makes less noise comparatively other compressors. It has 2.6SCFM of the highly efficient motor. The whole kit includes 6-gallons pancake compressor, SB-1850BN 18GA Brad nailer derives, Heavy-duty 3/8 in Crown staples drive, SB-1664FN 16GA Straight finish nailer drive and T50 staples.
2: DEWALT D55146 4-1/2-Gallon 225-PSI Hand Carry Compressor with Wheels
Two additional features that make this air compressor specific are its vertical stand and collapsible handle. The collapsible handle gives you grip and easy way to transport; however, the vertical position allows you to place or store it in less space area.
You can use this compressor in your neighborhood without bothering them due to 78 dB operational noises. After the tank exhausted, it provides 90 PSI pressure for quick recovery. DEWALT D55146 air compressor has heavy-duty 4.5 gallons and 225 PSI maximum tank storage for long time operation. 
It delivers 80% more usable more air than a comparable majority unit. This air compressor is oil-free, 80 pounds in weight, 33.5×44.8×24.5 inches dimensions and 1.6 horsepower. Two 10 inches non-flat wheels of this compressor help you while transporting or dragging it on the job place. 
Moreover, the DEWALT air compressor would be very beneficial for you if you are looking for a portable air compressor.
Here is a quick overview of the model:
3: Makita MAC2400 Big Bore 2.5 HP Air Compressor
Well if you are wandering for heavy-duty air compressor for performing tough jobs, then Makita 2.5 HP air compressor is a big bore engineered pump cylinder, and the large piston is made to fulfill your tough needs. 
Its 2.5 HP 4-pole motor produces 4.2 CFM at 90 PSI which improves efficiency and provides more productivity to your operation. This compressor produces 79 dB of lower noise because the pump runs at a low RMP (1,730). 
This iron cast cylinder compressor is designed to increase recovery time, reduces the noise level, and more compression for tough job conditions. Intend to minimize the risk of motor failure; there is an excellent feature that is low ampere draw the compressor and prevents from tripped breakers and voltage drop. 
Moreover, the roll bar handle provides a strong grip while transporting or dragging on the uneven surface of your job site. The weight of this compressor is 81 pounds and dimensions are 20×18×18.5 inches. Some other additional functions of Makita air compressor are; 
Removable cast iron wear for easy maintenance and increasing pump life.
Larger automotive style industrial air filters for greater efficiency and air intake.
More cooling running pump, Oil lubricated, and minimum wear.
4: Rolair JC10 Plus 1 HP Oil-Less Compressor
The fantastic feature we have in this compressor is just a 60 dB sound level. This is one of the quietest air compressors in the market that you can buy for peace and harmony of your workplace. This oil-free compressor is only 42.9 pounds in weight and are17×16×15 inches dimensions. 
It is ideally portable and best size compressor for outdoor and indoor roofing nailer. Now you must have this in your mind that what size air compressor do I need for roofing? 
So the answer is Rolair Jc10 plus compressor has 2.5-gallon tank capacity, casts aluminum cylinder and provides 2.35 CMF at 90 psi. The oil-free design of the compressor takeout you from the worry of maintenance.
5: Makita MAC700 Big Bore 2.0 HP Air Compressor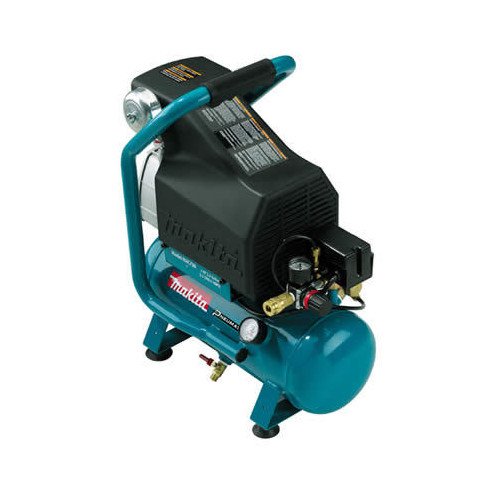 Under tough site job conditions, Makita MAC700 compressor engineered for high industrial power and increased durability. The 2.0 HP air compressor has a large piston and engineered pump for high-quality output. 
It also has a copper finned discharge tube for more heat dissipation and reduces water from the tank that keeps the compressor long-lasting. It is best in class engineering because there is oil-sight glass in this compressor for quick and easy maintenance. The roll bar handles fitted upside of the compressor makes it easy to carry and provide portability. 
This air compressor is 59.6 pounds in weight and has 18×22×10 inches in dimensions. 2.6 gallons tank capacity and deliver 3.8 CFM at 40 PSI. The low AMP draw minimizes the illustration of voltage drop and tripped breakers that often cause premature motor failure. It provides a cool running pump and reduces wear.
6: Campbell Hausfeld 8 Gallon Quiet Air Compressor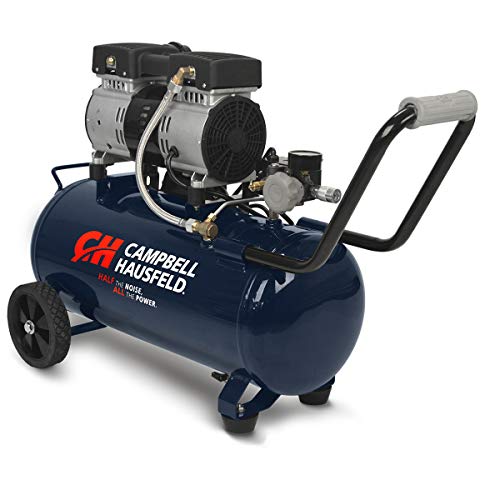 The Campbell 8 Gallon quiet air compressor is the best compressor for nailing, stapling, tires or balls inflation and hobby painting applications. It is an oil-free pump and provides 2.4 CMF at 90 PSI while3.5CMF at 40 PSI. This compressor has a maximum capacity of tank storage, i.e. 8 gallons.
With this compressor, there are 17 pieces of inflation kits which include gauge, chuck, 1/4-in.NPT (F) plugs, female coupling, (2) inflation nozzles, safety nozzle, and tapered nozzle. Isn't it an excellent kit for tool connections and inflammation? 
This compressor also includes a 25 foot PVC durable air hose. The air hose is 25 feet in length, 3/8 inch threads. Fittings: 1/4- inch NPT (M). Furthermore, the Campbell Hausfeld air compressor has a 2-in-1 brad nailer and air stapler. The 2-in-1 versatile magazine drives brad nails and crown staples. 
If you have to create crafts, fasten upholstery, install trim and repair screens, then this compressor would be your priority. We have found this compressor quite worthwhile and valuable.
Check out this review for more information about this model:
Final Words
We have discussed all features, functions, and benefits of different types of the best air compressors for roofing nailers.  While buying an air compressor for a roofing nailer keep this thing in your mind that what kind of nail gun you have looking for. 
All nail guns possess different features. Now make a list of your needs and budget then analyze which compressor would fulfill your needs. Once you make sure after having detailed research on your desirable roofing nailer air compressor, then go for it.
If you have any questions related to the air compressor for roofing nail, then feel free to ask us by commenting in the comment box below. 
Here are also some other interesting choices:
NuMax S3GI12CK 3 Gallon 1/2 HP Portable Electric Oil-Free Pancake Air Compressor with 2-in-1...
Ideal kit for powering pneumatic tools, interior and exterior finish work and trim, and handling inflation needs
Compressor: Oil-free 1/2 HP electric motor for less maintenance
Compressor: Thermal overload protection prevents overheating and extends the life of the compressor
Compressor: Steel 3 gallon pancake tank is compact, lightweight, and durable
Compressor: 2 easy-to-read gauges for tank pressure and output air pressure
Sale
CRAFTSMAN Air Compressor Combo Kit, 1 Tool (CMEC1KIT18)
CMEC6150 portable air compressor is proudly made in the USA with Global Materials in Jackson, Tennessee
PORTABLE: CMEC6150 CRAFTSMAN air compressor with 150 max PSI is lightweight, portable, and oil-free
DRIVING POWER: CMPBN18SB 18 GA Brad Nailer has the power to drive up to 2-inch brad nails
IMMEDIATE USE: Hose included for immediate use
Bostitch BTFP2KIT 2-Tool and Compressor Combo Kit
150 max PSI 6.0 gallon tank (22.7 L) and 2.6 SCFM* delivered @ 90 PSI pump, enable long tool run time with quick recovery for the air compressor combo...
Compressor features long-life oil-free, maintenance-free pump for convenient use
BOSTITCH high efficiency motor for easy start up in cold weather or extension cord application [14 ga or larger, 50 ft. (15.2 m) or less]
78.5 dBA** operational noise level for a quiet work environment
SB-1850BN 18 GA brad nailer drives 18GA brad nails from 5/8-inch to 2-inch
Sale
Makita AC001 Compact Air Compressor
Powerful 1/6 maximum horsepower induction motor provides up to 125 PSI
Lightweight design (23.1 lbs.) for increased job site portability
Low noise for operator comfort; ideal for indoor use
Low AMP draw reduces incidents of tripped breakers at start-up. Lever-handle ball valve tank drain improves easier maintenance and air tank release
Roll cage construction for extra protection of pump and motor assembly
Stealth 2 Gallon Ultra Quiet Air Compressor, 3/4 HP Oil-Free Peak 125 PSI 60 Decibel Air...
❤【POWERFUL & SAVE WORRY】Powerful induction motor generates 3/4 horsepower power; 2 Gallon oil-free air compressor features free of maintenance
❤【ULTRA QUIET & LONG LIFE】Stealth's innovative quiet systems features ultra quiet noise level low to 60 decibels and long-life cycle more than...
❤【QUICK RECOVERY】Peak 125 PSI, 2.8 CFM @ 40 PSI and 1.8 CFM @ 90PSI allows the compressor to recover quickly after its initial tank charge is...
❤【STABLE & MOBILE】Stable heavy duty Q235B steel tank body with rubber reinforced handle features easy mobility of toting the compressor from...
❤【WHAT YOU GET】Stealth SAQ-1234 Air Compressor x 1, 6' Electric Cord x 1, User Manual x 1, Lifetime Limited Warranty
California Air Tools 8010 Steel Tank Air Compressor | Ultra Quiet, Oil-Free, 1.0 hp, 8 gal
Comes complete with Wheel Kit & Air Filter | No hose included | Consider you will need a ¼" Universal / Industrial Male Quick Connector to attach...
Product dimensions – 26" L x 14" W x 23" H | Max Pressure – 120 PSI | Voltage – 110V / 60 Hz | Min running watts – 2500 | Noise level – 60...
Oil-Free Pump for Less Maintenance & Costs | Powerful 1.0 HP (Rated / Running) 2.0 HP (Peak) Motor
The large 8.0 Gallon Steel Air Tank is Lightweight (48 lbs) and the wheel kit makes it very easy to transport
The Oil-Free pump allows for use in a variety of temperatures and uneven terrains | This air compressor is ideal for anyone working inside where noise...