Outdoor activities like hiking and mountaineering are getting more popular in recent years. It represents a great way to have a break from crowded cities, traffic jams, offices, and other modern amenities. While mountaineering requires skills and experience, hiking is perfect for people who want to spend more time in nature while exploring the wildlife.
Before you choose the destination, it is important to consider some things like the distance, time that you will spend there, and required supplies. It will be necessary to bring enough water, food, additional clothes and to always have the ability to communicate.
For instance, if you are going to some distant area that maybe isn't covered with the network, you will need an alternative source of communication, such as a walkie-talkie.
On the other hand, if there is a proper 3G or 4G data connection, you can choose a mobile app that will works as a walkie talkie app. It can improve the hiking experience with group communication. One example is voicepingapp.com.
Still, if you are not sure that the network will be active all the time, and if you are planning to separate from the group at some moment, the safest option is to carry a proper walkie-talkie with yourself. Here are some of the best options for hikers.
1. Motorola T-605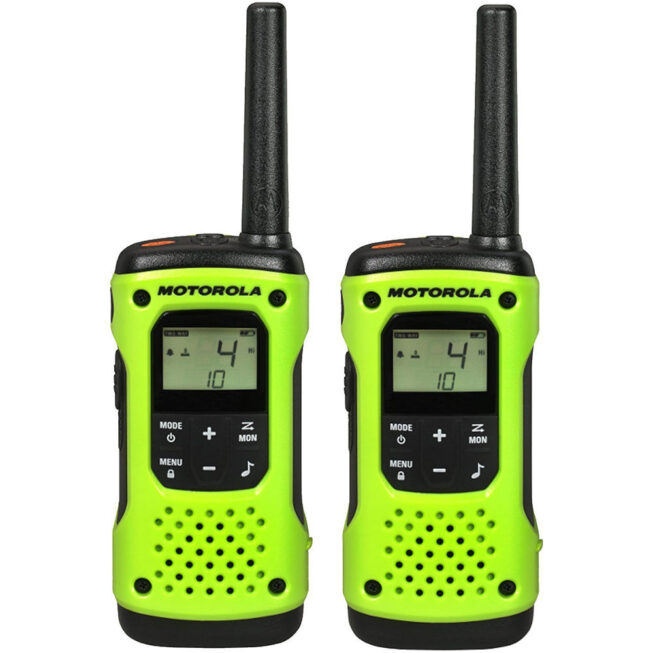 This brand is known for creating high-quality communication equipment. They are one of the leaders on the market for a long time. Therefore, it is not a surprise that one of their models is on this list as well. The main feature of T-605 is the resistance to water, dirt, and damage. Also, we have to mention the installed light, which can be handy if you don't have an additional flashlight. The range is excellent as well, with a maximum distance of over 30 miles.
2. Midland LXT-600 VP3
This is another excellent option if you are planning to hike in some unpopulated area. The main advantage is the clear sound, even when the distance is over 30 miles. Also, it can provide you with a weather forecast, which is useful in cases that it seems like there is going to be bad weather. When it comes to design, it feels comfortable in hands, and even a beginner will quickly learn how to use it. Still, the best option is to carry it in the belt since it is over 1 kg in weight.
3. Uniden SX-507
The average distance of standard devices is around 30 miles. However, if you are planning to go around or climb on some mountain, that won't be enough in case that you are planning to separate from the group by keep contact with them. Therefore, you will need a device that can cover a larger distance, like Uniden SX-507, with a range of over 50 miles. Moreover, it has great durability, weather forecast, while the price is only around $100.
4. Retevis H-777S
Finding the right channel in a populated area can be challenging. However, it will be necessary to find a frequency that no one is using at the moment to establish a clear connection. When it comes to the range of frequencies, this model from Retevis is perfect since it provides a much wider range. When it comes to the additional features, it has a LED flashlight. Also, the battery will keep running throughout the whole day without any issues.
5. Motorola MR-350R
Another model from a popular brand provides a variety of excellent features, such as a range of over 35 miles, the ability to secure the connection with codes, and easily find a free frequency. Also, it is resistant to light damage and water, while the battery can last up to 24 hours. Moreover, it is quite convenient for use with a big button in the middle, and installed light. One of the best features is the hands-free mode.
6. Bao Feng UV-5 R
The outstanding quality is what makes this product so popular today. Also, there are some advanced features like the ability to attach headphones, connect this device with a PC, and use it to communicate with other models of walkie-talkies. Moreover, it is perfect for people who occasionally go on hiking since the price is under $50, and it still can offer some excellent features, while some of them are better than some more expensive models.
7. Backcountry Access
Online reviews have become one of the most reliable methods when people are looking for various products and services. If you are going to rely on the comments of other users, the best option would be to buy Background Access. It is more expensive when compared to other models, but it will provide a perfect combination of quality, design, and additional features. It has some great functions like hands-free, long-lasting battery, excellent range, and more.
8. Midland T-10
If you are looking for a model that you can keep in your pocket this is the perfect solution. Many people today will go on hiking in regular clothes, by wearing only what is appropriate to current weather. Therefore, if you don't want to wear a baggy jacket, additional belts, and a large backpack, choosing Midland T-10 will be the easiest way to have a longer walk throughout some woods or mountains, without the need to carry a heavy device.
9. Uniden GMR-5095
If you are looking for the best combination of all features, such as great distance, clear sound, efficient battery, and a wide range of frequencies that you can protect with codes, then this is the best option. Also, it has a high-level water resistance which means that you can put it under the water without any issues.
Summary
Before you choose the right model, be sure to rely on your requirements. Therefore, always check the battery life, water resistance, range of frequencies, the distance it can cover, and other features that could be important during your adventure. Also, determine the budget because there is a wide range of prices of these products.