Kids are those who want and search excitement in everything. They are extremely attached to nature and also are the deep observer. For their better observation and well growth number of different binoculars is available now in the market. The best options for buying a binocular for a child are listed and described below.
Kidwinz Shock Proof 8×21 Kids Binoculars
Educational Insights Geo Safari Compass Binoculars
Explore One 6×21 Binoculars
BlueCabi 8x21mm Binoculars by Bresser
HABA Terra Kids Binoculars
Luwint 8 X 21 Kids Binoculars
Bushnell Falcon 7×35 mm Binoculars
Cobiz 10×25 Compact Binoculars for Kids
Educational Insights Geo Safari Jr. Kidnoculars
Backyard Safari Field Binoculars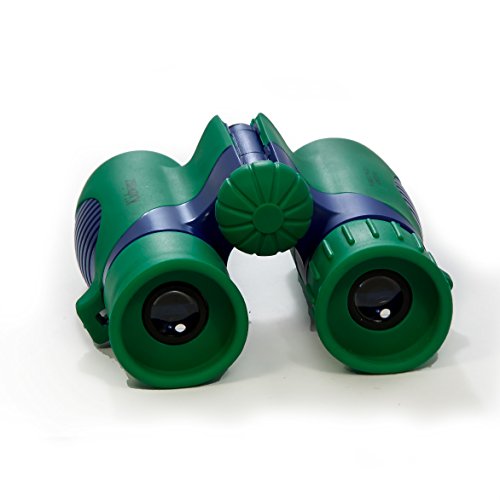 For the better and regular improvement of the outdoor activities of the children, there is a need for one of the best binocular for kids for better observation. The Kid wins Shock Proof 8×21 Kids Binoculars is the best choice for both boys and girls of age 3 and above. Through this binocular, the kids will be entertained and will acquire knowledge at the same time. The working principle Kidwinz Shock Proof Kids Binoculars is very satisfactory and it produces a very sharp image. There are some attachments given with the Kidwinz Shock Proof 8×21 Kids Binoculars which includes a guide for the operation of the binocular, a neck strap which is 2 feet long, cleaning cloth and a travel beg for the binocular.
With the outstanding magnification power of 8x, it produces a very clear and sharp image. The best product for the viewing birds closely, for hunting, for watching games, distant learning etc. it has a full rubber coating which makes it able to absorb shock while falling on a ground and the rubber coating also provide an extra protection to the lenses from breaking when it falls. Because it is for kids for that reason many safety measures are kept in mind one of these are for the protection of eyes the eyepiece lenses are covered with the rubber coating just with the aim that not to hurt a kid.
Features
Having 8x magnification power
1 degrees are used to viewing angular field
The objective lens is used for focusing
21mm in diameter objective lens is used
3 groups and 5 pieces of different lenses are adjusted in the binocular
Prism coating is present
Exit pupil has 10mm distance
Eyepiece lenses can match the eye to eye distance through the eyecup system fitted in the Kidwinz Shock Proof Kids Binoculars
The image is focused at the center
At 1000 yards the field view is 366 feet
At 1000 m the field view is 122m
Ocular lens used is 18mm in diameter
Lifetime warranty with the flexibility of replacing or return of 60 days
Designed for kids so it has easily handled and also easily focused
The eyepiece is surrounded by rubber to protect children eyes and face
The rubber coating makes it shock proof while falling on the ground.
PROS
Lighter in weight can be easily handled by kids.
It doesn't have too many ways to adjust the binocular.
Secure to use because of the rubber coating surrounding the eyepiece lenses.
It has a brilliant magnification power.
Shockproof material prevent it from easily breaking.
Having a reasonable price.
CONS
Sometimes may difficulty comes in focusing
Conclusion
Everything with a lot of attributes has some defects in it so it can adjust a little focusing problem sometimes given by Kidwinz Shock Proof 8×21 Kids Binoculars I personality recommend you people this binocular for your kids for their better nourishment. Go and have this binocular for your kids because it is one of the basic needs for the nature observation and your kids learning from their early lives.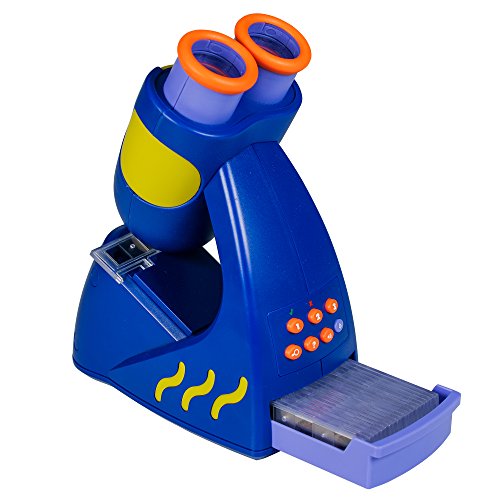 One of the best options in the hunting binoculars for kids is Educational Insights Geo Safari Compass Binoculars. With the 4x magnification power a lightweight Geo safari kid binocular is very much appropriate for kid's outdoor fun, enjoyment, and learning. A glass lens which is used in Educational Insights Geo Safari Compass Binoculars is of 30mm thickness. A neck strap is also attached for easy handling and also a built-in campus is attached to it. A great option for the camping, out of town explorations, hunting and different outdoor expenditure for the children of 5 years or above.
Features
High technology is used in Educational Insights Geo Safari Compass Binoculars
Lighter in weight can be easily handled by children
Magnification power is 4x
The neck strap is attached for kids
A glass lens used is of 30mm in diameter
A compass is also placed in Educational Insights Geo Safari Compass Binoculars
One of the soft grip binocular
Can be easily focused at the center
Not have a complex system that is difficult to understand by children and can easily explore the nature
Not an electrical device, so no power is used to run this binocular.
PROS
It has a good zoom quality.
Can cover a long distance.
Focus on the object what you are looking for and make the surrounding blur highlights your study object.
A well built binocular, not easily break.
An excellent image quality.
For the exploration purpose, the lenses used are of excellent quality.
Reasonable for a normal middle-class families.
CONS
The lens may become loose sometime.
Compass is not much more functional.
Conclusion
For the resolution, navigation, determination, and observation of nature and anything else by your children, the Educational Insights Geo Safari Compass Binoculars is one of the best options. Though it has a week point that its lenses may become loose sometimes but that can be overcome easily with a little care. Best for nature lovers because of the high technology, brilliant focusing and a good image quality.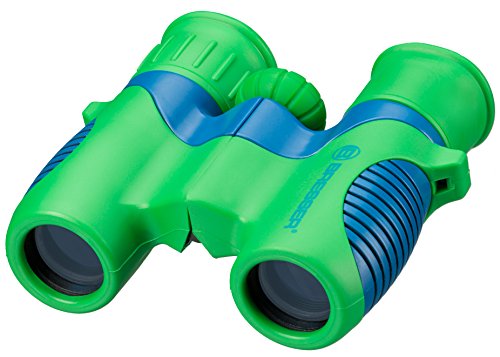 Another observation apparatus for children the Explore One 6×21 Binoculars with a magnification power of 6x and the aperture of 21mm is perfect for the use of small kids. A lightweight and having a rubber coating this binocular includes a packing bag and a nylon wrist strap. With all other lenses, a prism is also fitted in Explore One 6×21 Binoculars. A large focus wheel makes it able to adjust and focus you're binocular easily.
Features
The aperture of the lenses is 21mm
Lenses of the magnification power 6x are used in Explore One 6×21 Binoculars
Prism is also fitted in this binocular
A nylon wrist strap is attached with it to be easily carried out by the kids
Secure to use because it is coated with rubber which does not harm a person
A traveling beg is also available with it for easy managing
Having a large focus wheel
Diopter adjustment you can adjust eyepiece lenses according to your eyes for best focusing result.
PROS
Delivers a bright and a clear image, good viewing quality.
Extra durability is provided by the nylon beg.
Quality material is used in Explore One 6×21 Binoculars.
The rubber coating makes it safe for the uses of children of any group of age.
Small in size, best for kids.
CONS
Parts are not very tightly fixed
Conclusion.
Explore One 6×21 Binoculars, a lightweight kid's binocular with the large focus wheel and excellent image qualities. It has a two knob one in right and other in left for the focusing of the object. I would definitely recommend this binocular for your children to discover the nature because it is made very well. Though we heard that its part are not tightly fixed if then it can be tightened by anyone anywhere. So come out of the expensive binoculars and go for the Explore One 6×21 Binoculars as the best choice for your children.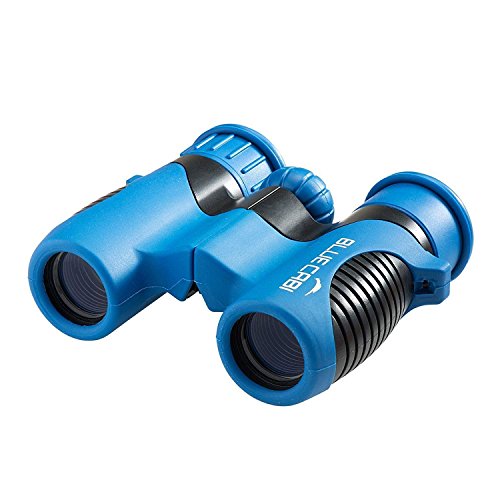 BlueCabi has designed a binocular for kids, BlueCabi 8x21mm Binoculars with the magnification power of 8x and the lenses diameter of 21mm. A rubber coating makes it secure for the use of small kids with a nylon neck strap which makes the kids carries it easily. This lightweight kid's binocular has a cleaning cloth with it and a carrying beg to travel easily with it. Due to a durable shockproof material, it is hardly be broken. With the 2 years warranty, high-quality lenses and prism are used in BlueCabi 8x21mm Binoculars. Best for the outdoor adventure and fun. For better nourishment of our children, this is now one of the basic need which makes them observe everything very keenly. Best for the birds watching with the high focus quality. Best for up to 6 years old kids.
Features
High-quality prism and glass lenses are for focusing
8x magnification power
21mm lenses aperture
The adjustable eyepiece can adjust the distance between eyes
The binocular pack include the carry beg, nylon strap
A hunting binocular best for birds watching and outdoor learning
Lighter weight easily managed by kids
Lenses are coated with the shockproof material
The neck strap is thin which makes the kid comfortable
A cleaning cloth for the cleaning of prism and lenses
High-resolution power.
PROS
8x magnification produce a clear and sharp image
Made as hunting binocular
Smooth and glossy design
Optics used are of high quality
Durable
Lighter weight, kids easily carry it
CONS
Not for elder kids
Too small, to be difficult to focus
 Conclusion
The best gift for any kid under 6 through which they can observe the nature from the very beginning of life. It is too small that is it's just for the younger kids; it may difficult for little elder kids to manage it and to focus it perfectly. It is the perfect recommendation for the young kids. A reasonable and a durable BlueCabi 8x21mm Binoculars are best for watching birds and outside fun.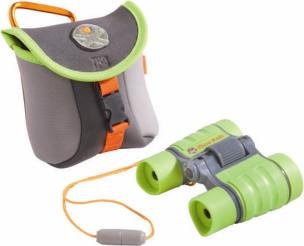 The HABA Terra Kids Binoculars is made for outdoor adventures with the 4 times more magnification power. Though it's small with the adoptable eyepiece and a great magnification power and also rubberized lenses make it safe and secure for the use of children. The 4x magnification makes the object very much clear and makes HABA Terra Kids Binoculars one of the best options for kids. A guide tool cards are also packed with it to guide the user for the proper use of the binocular. Have a shoulder strap for easy managing by the little explorers. A lightweight and a small design binocular just like a little toy for our very young explorers.
Eyepiece adjustment and focusing are very simple in HABA Terra Kids Binoculars. Best recommendation for the age 6 or above and the length of this binocular is 9cm. small enough that can easily comes in hand and also have a focus knob.
 Features
4x magnification power
9cm in length can be easily managed by kids
Guide cards for knowledge about the binocular
Also, have a focus knob
Adoptable eyepiece lenses
Rubberized lenses, hard to break
Have a neck strap
Best for exploring nature and biology
Has a superior magnification
Neoprene shoulder bag with snap fasteners.
PROS
Field view is wide
Brilliant focusing
Well build and modern design
Light in weight
Travel casing that is easy to carry
Durable design
Easy to focus
Conclusion
For the great adventure and fun of your children, another best recommendation in the binoculars is the HABA Terra Kids Binoculars. It is small because it's for the kids of the age group 6 or above. We suggest you buy this binocular for your kids because it's a best learning friend of the children. Come out of the expensive one buy this, it's reasonable and also durable with the excellent magnification and focusing.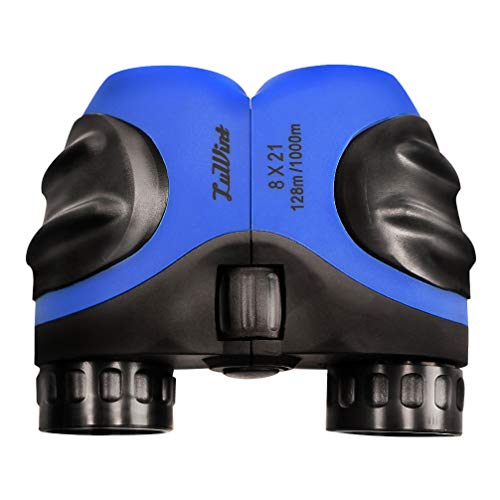 A nonslip grip binocular, the Luwint 8 X 21 Kids Binoculars is light in weight and has a rubber coating around the eyepiece to protect the children eyes from harm, also a neck strap attached with it to prevent it from falling if you lose grip over it. With the magnification of 8x, it can cover a long distance and produce a very clear and a sharp image. As it is designed for kids so it can be easily focused, lightweight and can be folded acceding to adjustment of the eyes. Luwint 8 X 21 Kids Binoculars are the great option for the learning and exploration of the children in their early childhood.
A multi-layered coating technology is used for producing more clear, sharp and realistic image. Best binocular for hunting, birds watching, games, boating, riding etc. Accessories with Luwint 8 X 21 Kids Binoculars include a 17cm long hand strap, a cleaning cloth for the cleaning of the lenses of the binocular, a guide for the operation of the binocular and the carrying bag.
Features
The 21mm aperture of the lenses
17cm long hand strap
8x magnification power
Folding ability with the adjustment of the eyes
High magnification with the ability to cover long distance and produce a sharp image
Lightweight
A nonslip grip
For hunting, bird watching and other outdoor activities
A guide for the operation of the binocular
A cleaning cloth
A carrying case
128m/1000m (yards) field of view
High-quality rubber is used which make it shock absorber.
PROS
Perfect size
Easy to handle
Simple focusing techniques
Not much heavier and not much expensive
Quality binocular
Durable and perfect design
Well built
Conclusion:
A small pocket size binocular best as a gift for kids. Not too high focusing quality but it can do its job very well. Perfect for a young explorer with simple and good optical qualities. A well built, durable and perfect design binocular easy to handle for small hands with simple focusing techniques and a rubber coating makes it hard to break. Luwint 8 X 21 Kids Binoculars a best suggested binocular for small hands.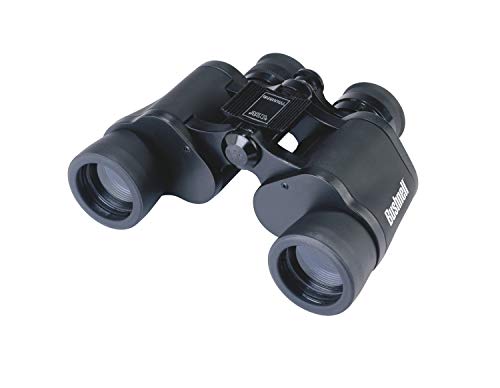 A Bushnell Falcon 7x35mm binocular comes in a nice case with instruction papers and a lenses cleaning cloth and a neck strap. Bushnell Falcon binocular have a Porro prism and a 7x magnification lenses and the diameter of the objective piece is 35mm. the resolution is amazing and magnifies the abject 7 times greater than its original size. A lot of afford is done to make a low price and good quality binocular, it offers a great clarity. In addition to all other features, it has a foldable eye cup and an eye relief of 12mm. Bushnell Falcon binocular can focus an object as close as 20 fetes away. Having the exit pupil diameter of 5mm and angle used for the view is 8° and field of view used is 420 feet at 1000 yards. It has a durable and a well-built design with a rubber coating provide a sharp and a clear view, mostly used for hunting, watching bird's outdoor sports and other activities.
Stunning HD quality and best optical lenses are used in 21 ounces Bushnell Falcon binocular. Optics of the binocular is fully coated for the est. refraction of light. A nonslip rubber material is used in it for a strong grip and it also has a quality of instafocus, to focus on the object that is moving fast.
Features
21-ounce weight
7 magnification power
View of field used in Bushnell Falcon kids binocular in 420 fetes at 1000 yards
The diameter of the objective lenses id 35mm
Durable and a sturdy design
Focus an object very easily that is as far as 20 fetes
Eye relief is of 12mm
Quality of instafocus
Foldable eyecups
Exit pupil is of 5mm
The nonslip tight grip rubber material is used
The angle of view is 8°
Great focusing quality
It has a Porro prism in it which help the user in autofocusing
High-quality image.
PROS
Great quality binocular
Perfect for small hands according to its size and weight
Focus knobs are very smooth
Affordable price
Easy to handle
Easy setup
CONS
lenses are loosely fitted
Conclusion
If you do not want to spend a lot of money and want the best binocular then Bushnell Falcon binoculars are the best option. It has a full pack box with everything inside it with a registration card of a Bushnell company however sometimes lenses are loosely fitted but it can be tightened by anyone. Enjoy the best binocular with more consistent and reliable performance.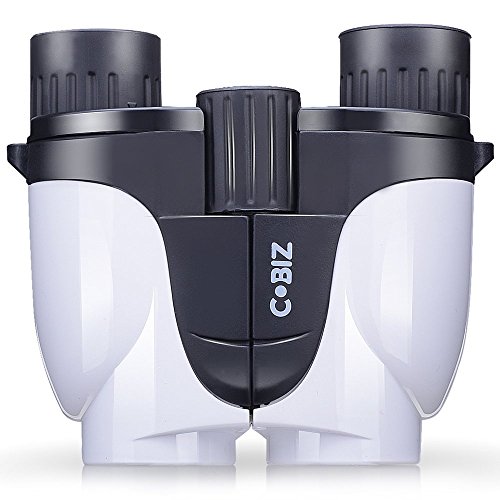 Another ideal binocular, Cobiz 10×25 Compact Binoculars for Kids is launched with the great magnification power of 10x and the diameter of eyepiece lenses are 25mm.it ranges up to 380 feet at 1000 yards. A lightweight modern binocular with a Porro prism and a powerful binocular best for the children fun, enjoyment, and adventure. It has a foldable eyepiece with a brilliant central focusing quality. A neck strap and cleaning cloth for lens cleaning are packed with Cobiz 10×25 Compact Binoculars. With the quality of 7 prism material (Porro prism) Cobiz binocular is suitable for low light or a night vision. All the optical lenses have a layer of piano lacquer finish provides the user with the best optical surface for great image clarity.
Features
foldable eyepiece
porro prism, 7 prism material
25mm aperture
10x magnification power
Light in weight up to 145 grams
Piano lacquer finish coating on the lenses
Neck strap and a cleaning cloth
Ranges up to 380 feet at 1000 yards
For low light and night vision
Versatile binocular for camping, bird watching, outdoor fun
Up to 2 years warranty.
PROS
Ideal size for little hands
Easy focusing
Having a night vision quality
Lenses are coated
Lucid lenses
Stable and reliable
Optics are of high quality
Conclusion
The best gift choice for small kids, the Cobiz 10×25 binoculars with a neutral white color makes your eyes relax at an affordable price. Thought it seems that it has some issues in far focusing but for the most part this can be a good thing because optics used are of high quality and the lenses are also coated making it the best option for the small hand and their better learning.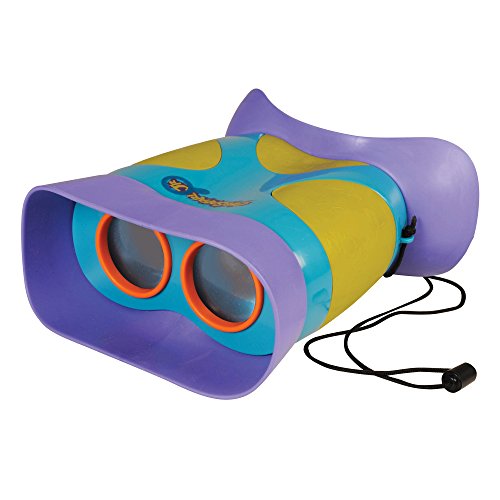 The only best binocular option for pre-school children is the Educational Insights GeoSafari Jr. Kidnoculars. Can increase the apparent size of the object 3 times more than the ordinary binoculars. It's for the age group of 3 or above. Its eyepiece is focused free and is bigger in size. It is light in weight up to 8.5 ounces that can be easily managed by the children. With the 2x magnification power it also has a breakaway neck strap. The eyepiece is surrounded by the flexible rubber which keeps the access light out and it's a great accessory for little backyard adventures.
Features
2x magnification power
Breakaway neck strap
Eyepiece surround by a flexible rubber
5 ounces weight
Best supplement for a backyard adventure
Reliable goggles
Educational Toy
Placement guide.
PROS
No knob for focusing, free focusing
Not heavy
Convenient for a little face
Sturdy design
Include replacement parts
Conclusion
Educational Insights GeoSafari Jr. Kidnoculars is the only binocular for preschool children as it can just magnify an object up to 2x but its pretty good for kids and there is no need to focus as it is the free focusing system. I will suggest you go and own Educational Insights GeoSafari Jr. Kidnoculars for your child because it is the great option for the backyard adventure for the little explorer and because it is also easy to carry by the little hands.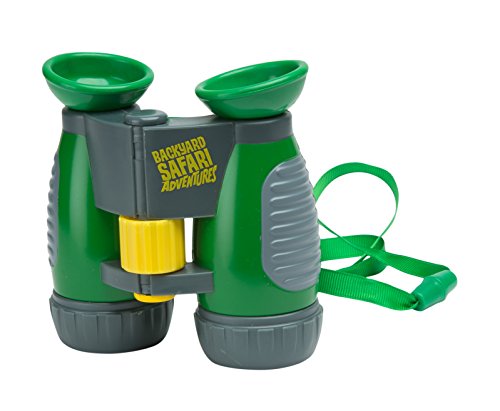 Backyard Safari Field Binoculars are the waterproof binoculars with the 5x magnification power and 30mm objective lenses diameter. For the stronghold on the binocular, there is a rubberized grip as you are exploring. These binoculars are best for kids because rubber surrounding the eyepiece can adjust according to the little or big kids faces. Flexible eyecups ensure the clear view. These binoculars are such fun and engaged kids in adventures story telling. Best for the age 6 or above and have a breakaway neck strap.
Features
5x magnification power
30mm aperture
Flexible eyecups
Strong rubberized grip
Waterproof binocular
Breakaway neck strap
Lightweight and easy to use
Soft and adjustable
Durable
Best for a backyard adventure.
PROS
Easy to adust
Soft and comfortable design
Perfect size for kids
Have a great mobility options
Strong hands grip
Increased durability
Conclusion
With your own binocular you will be able to enjoy all the fun and adventure during your trips. Make exploration the hobby of your kids and provide them with the Backyard Safari Field Binoculars. Do not think it's the waste of money think that your child will learn more and more in their early life. go and have this binocular for your kids for the keen observation of nature. Let's check out Best Long Range Scopes In 2018.