Are you planning to choose a career as a programmer or wondering how much money can a programmer earn?
In today's article, I will discuss what programming is? And what are the possible ways that can benefit you by choosing the right direction-the to rest you decide?
What is Programming?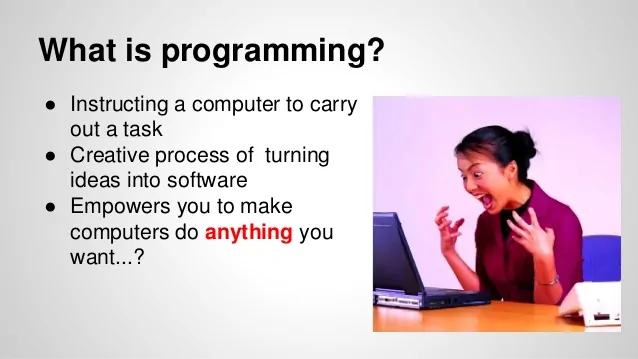 In computer science and Informational technology, programming is referred to the process of planning, generating and executing the codes, algorithms and machine language(software and hardware) that helps us to ease our work.
When you are programming, it means that you are creating software or a piece of code that help you or client to carry their routine work easily on a laptop, computer or any other digital device that accepts the programming language.
Top Paid Computer Programmers Making Money in a Year
An article published on adtmag.com says that it depends on the category/field you have chosen for the program. It depends; Higher the Demand Higher the Price.
Let have a look at the earning of programming:
$100,000-150,000 – Experienced Computer Programmer Salary
If you belong to a reputable company that has a strong position in the market, also you have 7-12 Years of experience you can earn $100,000-15,000 a year.
$95,000-120,000 – Internet Sector Programmer Salary
Working with an internet company that provides internet services and you have opted to work with them in the programming domain you can easily earn $95,000-120,000 a year.
$70,000-13,000 – System Programmer Salary
System developers; those who program and you are willing to can earn $70,000-130,000 a year. As the market filled with a lot of programmers and clients has different demands.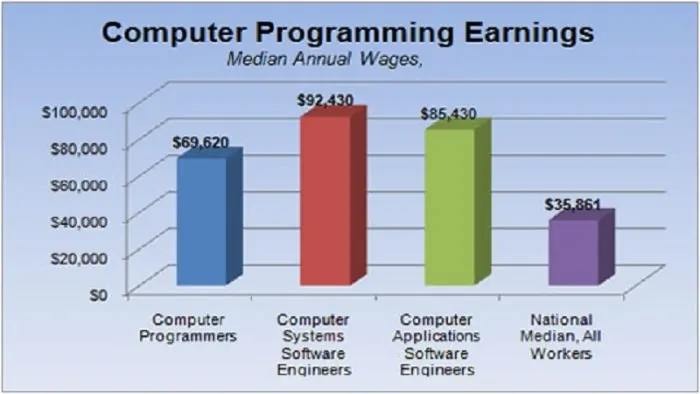 Programming in 2023 – The Higher the Skills, The More You Get Paid
It's not just about sitting in front of a laptop and doing programming the traditional ways. You have to acquire new skills as the industry is transforming and people need more advanced systems.
If you keep on learning, the new and advanced programming languages that will help you to stay in the market and get the project easily.
25-Programming Languages – 2023 Reviewed  
GO| Kotlin| Java Script| Rust| C&C++| Swift| Java| Python| C#| PHP| Haskell| Lua| Visual Basic| R| Perl| VBA| Matlab| Go| Scala| Groovy| VB.Net| Assembly| CoffeScript| Objective-C| TypeScript
Above are the programming languages. You can choose from it, gets hands-on training, and practice your skills.
What Programming Languages Should You Choose
Most of the people ask, what is the best language to choose that can earn more?
You have to look first, which programming language is in demand in the market. Don't get too much addicted to one language, as the best programmer always knows the ABC of all programming languages.
5 Best Steps to Earn More with Programming in 2023
The big question and most of the students who are seeking to choose the programming field. I have suggested a few points below, read it and understand carefully to earn more in programming.
Practice and Enhance New Skills – You will Earn More in 2023
Practice makes you perfect. For you, programming is not easy initially, and it's not difficult at all, all you have to do is practice what you learn and implement it.
An employee or Independent Work- The Best to Choose in Programming Career
It's not going to be comfortable in the beginning. Initially, if you are keen to learn and practice the programming more then you will have no issue.
Those who can't work alone, what I suggest is to work with a company and learn with them. This way you will polish your skill and learn the new techniques and methods they follow.
When you have enough knowledge about the programming and understand the dynamics of different programming languages-you should work as an independent contractor.
This way you will work with independence and spend more time with programming.
Degree in Programming Choosing as a Career
For beginners, I will suggest to enroll in a course or find an instructor. This will help you to get directions and get things quickly, not that much easy initially, but slowly and gradually you will learn all the techniques and methods used by an expert or experienced one in programming.
Individual or Team in Programming
When you are new in the programming field, what I recommend is to work in a team; with classmates, like-minded or in a company.
The purpose of doing so in programming is to understand, analyze and implement the knowledge and information shared by team members about programming.
Salary Expectations in Programming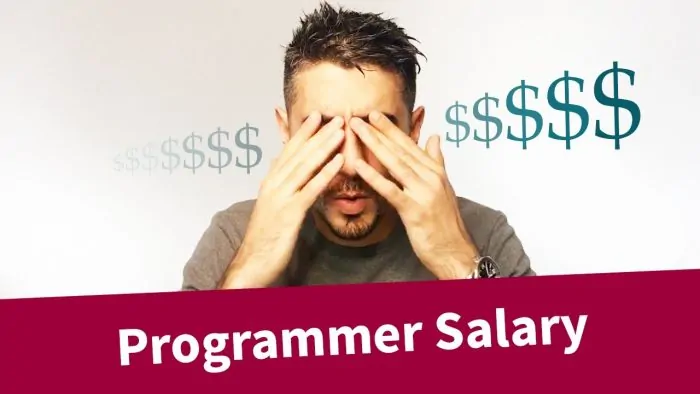 Finally last not but not the least. If you are expecting to get paid high and want to generate more income in programming-I suggest to learn more.
The reason is when you are willing to learn more and interested to know the new techniques, software, and tools used for programming – money will come to you at your terms.
Conclusion
In today's article, I have discussed programming, how much you can earn and what are the salaries offered in the market. You have also analyzed the points that can help you; if understood and implemented, that will help you to learn and earn more in the programming field.
The final words that I will make about programming and especially to you, programming is a core part of the computer, system, and information technology sector. Don't think so much if you have an interest and keen to learn about programming.
Choosing programming as a career will benefit you a lot.